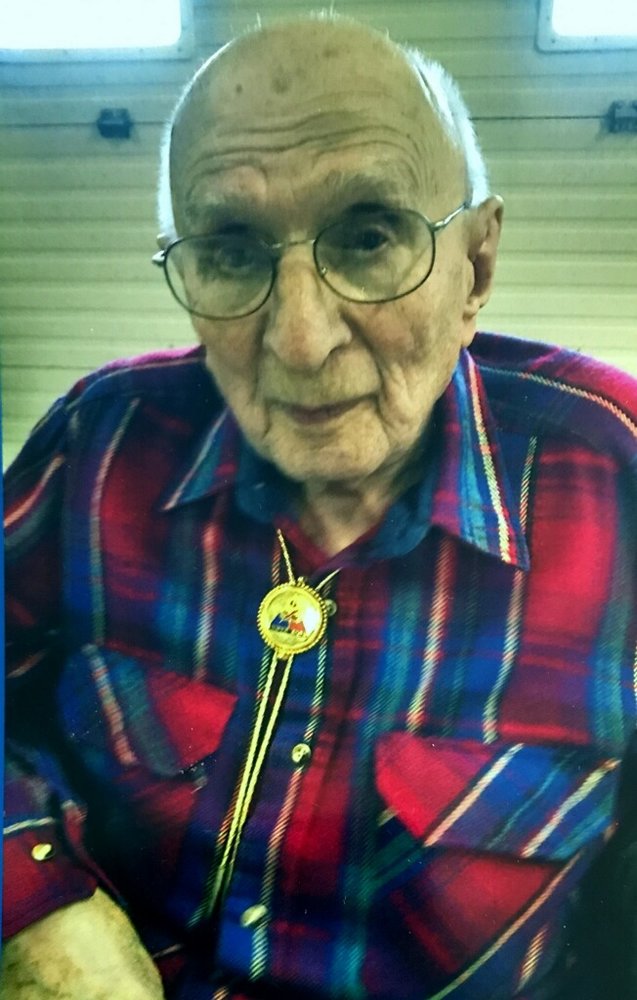 Obituary of Merlyn Philip Spilger
Atalissa, Iowa
Merlyn P. Spilger, 100, passed away Friday, October 19, 2018 at the Simpson Memorial Home in West Liberty.
Funeral services will be held at 10:30 A.M. Thursday, October 25, 2018 at the Zion Lutheran Church in Atalissa. Visitation will be 5:00-7:00 PM on Wednesday at the Henderson-Barker Funeral Home in West Liberty. Burial with military honors will be in the Oak Ridge Cemetery in West Liberty. A luncheon will be held following the graveside service at the Atalissa Fire Station. Memorials may be directed to Atalissa Fire Department, West Liberty Rescue Unit or West Liberty American Legion. Online condolences may be made to the family at www.hendersonbarkerfuneralhome.com.
Merlyn was born May 16, 1918 in Atalissa, Iowa the son of G. Philip and Anna Belle (Gatzke) Spilger. He graduated from Atalissa High School in 1936. Merlyn was united in marriage to Dorothy Rochau on April 24, 1942 in Atalissa. He farmed his entire life in the Atalissa area. He was a member of the Zion Lutheran Church, American Legion, VFW #1565, and Muscatine Moose Lodge. He enjoyed fishing, hunting, watching sports, bowling, telling jokes and playing cards. He and Dorothy enjoyed dancing and they both stayed active by regularly swimming at the Wilton swimming pool.
Survivors include his children: Nancy Spilger of Iowa City, Gary (Ruth) Spilger of Clinton, Iowa, Linda (John) Croft of Fremont, CA, Dennis Spilger, of Atalissa, Merna Spilger of North Liberty. Grandchildren: Ben (Sigrid) Spilger, Brian (Missy) Spilger, Anna (Jason) Klingler, and Amy (Trevor) Hughes, great grandchildren: Nick (Holly), Molly (Joseph), Sophia, Layla, Noah, Elizabeth and Emily. He is also survived by his brother Leland (Loretta) Spilger of Atalissa. He was preceded in death by parents, wife Dorothy, daughter Carol, brothers Harold, Wayne, Kenneth and a sister Lucille Freyermuth.