History
West Branch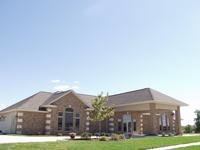 In the early 1900's T.T. Hathaway and E.L. Hollingsworth served as the funeral directors and also operated the local furniture store.

In1922 W.B. Anderson started as a funeral director and operated Anderson Funeral Home in the rooms above what is currently Springdale Insurance Agency at 101 North Downey St.

In the early 1950's the funeral home was moved to 303 North Sixth St. where it remained for over 50years. In 1959 Gilbert Barker purchased the funeral home from Mr.Anderson. Gilbert later purchased the Snider Funeral Home in West Liberty in 1969 and operated the two businesses until his retirement in1996.

Scott Henderson joined the funeral home in 1984 and purchased both funeral homes in 1996. Scott and his wife Jackie had hoped to find a new location for the construction of a new funeral home shortly after buying the business in 1996. In September 2003 land was bought and in December construction began with the building being finished in October 2004.

West Liberty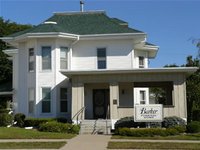 In 1910 Sherman and Carrie Snider purchased the Snider Furniture Store and Funeral Home in West Liberty (located in the 100 block of East Third Street), when the owner was killed in an automobile accident. This very early automobile was driven by the chauffer rolled into a ditch outside of West Liberty. In 1940 S.C. Snider purchased the funeral home at 205 E. Third Street (current location) from John C. Conner. At that time there were two funeral homes in town. They were later joined by the Snider's daughter and son-in-law Virginia and Raymond Gehrke.

Gilbert Barker bought the funeral home and furniture store in 1969 and operated it along with the Barker Funeral Home in West Branch. In 1972 the funeral home underwent extensive remodeling and an addition was added to the funeral home to make the building a more accessible and convenient facility.

In 1984 Scott Henderson joined Mr. Barker and continued with him until 1996 when he purchased Gilbert's interests in West Branch and West Liberty. In 1998 the facilities again were extensively remodeled and additional off street parking and handicapped parking was added.