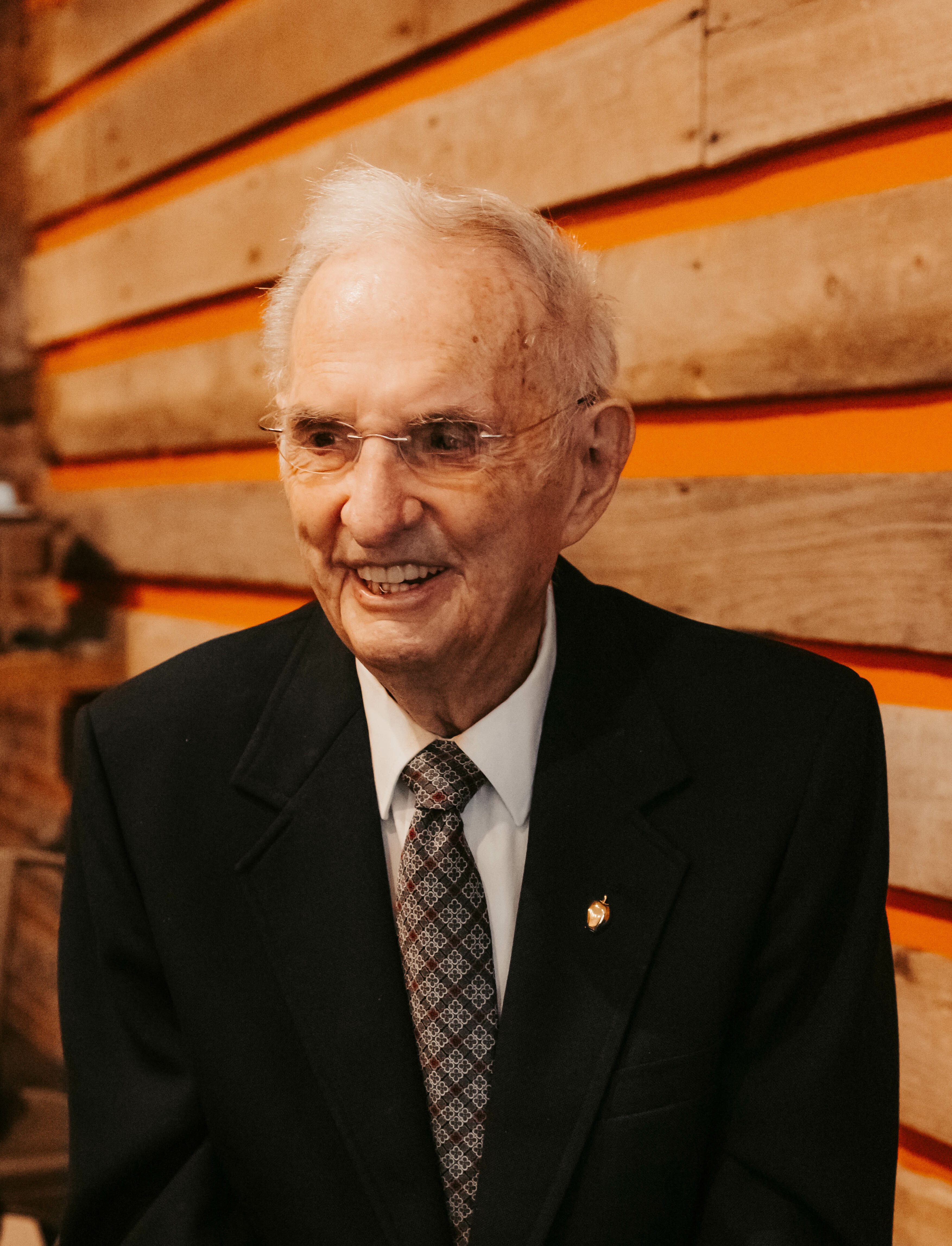 Obituary of Walter Herbert Lehman
Please share a memory of Walter to include in a keepsake book for family and friends.
The funeral service for Walt will be lived streamed via the Henderson-Barker Funeral Home Facebook page and can be accessed by clicking the following link: https://fb.me/e/2wgmiUt6h This will begin shortly before the service.
Walter Herbert Lehman, 98, passed away peacefully on Sunday, December 18, 2022.
He was born to Pierrie and Bessie (Passmore) Lehman on June 11, 1924 in Owen, Wisconsin (Clarke Township). His elementary education was at the Cedarville one room schoolhouse in Goshen Township, Muscatine, Iowa. His secondary education was at West Liberty High School in West Liberty, Iowa. He graduated in the class of 1943.
Walt served with the United States Army in World War II from October 1944 to November 1946. He fought in the Pacific Theater, both in the Philippines and in the occupation of Japan. He was assigned to the Americal Division and was wounded on May 5, 1945. For protecting other wounded soldiers while already wounded himself, Walt received the Purple Heart.
On August 14, 1948, Walt was married to Shirley Jean Schiele, and they celebrated 65 anniversaries together. They had one son, Thomas Carl Lehman.
Walt farmed all of their married life. He served as a 4-H leader, he was a member of First Church United and Mt. Calvary Masonic Lodge #95. He was a past President of the Muscatine County Fair and an Honorary Fair Board Member. Walt was a lifetime member of the American Legion, Veterans of Foreign Wars and Disabled American Veterans. Through it all, he always had a joke to tell, a story to amuse and a trick to pull. He loved to laugh and bring out the laughter in others.
Favorite activities included dancing and playing cards. Walt played cards till the very end and danced almost as long! Many of his friends were those at dances and in card clubs and parties.
Walt was preceded in death by his parents, his wife Shirley Lehman, his sister Wilma Ogren, brother-in-law Carl Ogren and sister-in-law Marion Lehman. He is survived by his son and daughter-in-law Tom and Susan Lehman, grand daughter and grandson-in-law Trish and Dan Anderson, grandson and granddaughter-in-law Joe and Ann Lehman, great-grandchildren Addyson and Perry Lehman, step great-grandchildren Olivia and Evelyn Gillespie, brother Fred Lehman, brother and sister-in-law Bob and Wanita Lehman, and the love of his later life, Evelyn Evans.
Walt was blessed, being raised in a good family, surviving his tour of duty in WWII, enjoying a long and happy marriage to Shirley, raising a child and watching his grandchildren and great-grandchildren grow, finding a second chance at happiness and companionship with Evelyn and laughing and loving it all.
Walt will be remembered for his sense of humor, his dedication to doing the right thing and his loyalty to family, friends, community and country.
Visitation will be held Friday, December 23, 2022 from 9:30am-11:30 with funeral services following at First Church United in West Liberty. Military honors will be held at the church with burial in the Oak Ridge Cemetery, West Liberty.
In lieu of flowers memorial donations may be made to Mansell Phillips American Legion Post #509, West Liberty.


Share Your Memory of
Walter