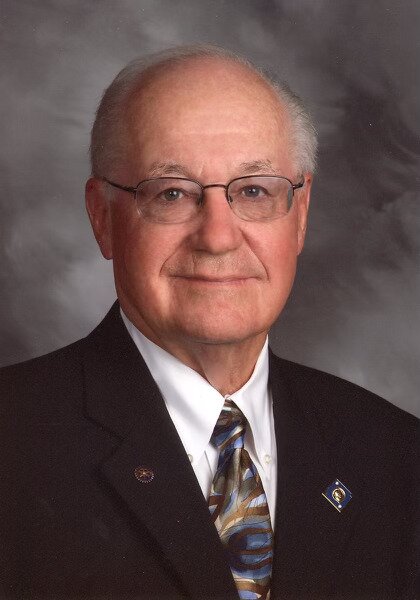 Obituary of Thomas C. Brooke
Please share a memory of Thomas to include in a keepsake book for family and friends.
West Liberty, Iowa
Thomas C. Brooke, 93, passed away Monday, September 12, 2022 at the Simpson Memorial Home in West Liberty.
A memorial visitation will be held 10 A.M. until 3 P.M. Saturday, September 17, 2022 at the First Church United in West Liberty. Memorial service will be held 2 P.M. Sunday at First Church United, West Liberty. Online condolences may be made to the family at www.hendersonbarkerfuneralhome.com. In lieu of flowers memorial donations may be made to Camp Courageous of Iowa. Family inurnment will be held at a later date in the Oak Ridge Cemetery, West Liberty.
Thomas was born January 3, 1929 the son of Clare I. and Gladys (Hawthorne) Brooke. He lived his entire life in West Liberty, graduating from West Liberty High School in 1946 and the University of Iowa in 1950. Tom joined his father as a partner in Brooke Oil Company, a petroleum marketing firm. The name was changed to West Liberty Oil Company and then later to Brooke Enterprises, Inc, marketing petroleum products in central and eastern Iowa.
Tom was joined in marriage to Mary Pat Miller on November 27, 1957 and to their loving relationship they had three sons Bruce, Darren and Scott who subsequently joined their father in the petroleum business and associated businesses. Tom became a part owner of the West Liberty State Bank in 1972 and was secretary of the bank board and secretary of West Liberty Holdings Company. Tom was a long time member of the First Church United, serving on the board for 12 years, a 70 year member of Mt. Calvary Masonic Lodge, AF&AM and was Master of the lodge in 1957, also a member of Royal Arch Mason, Order of Easter Star for 50 years, Zarepath Consistory 50 years and Kaaba Shrine 50 years. He was a second generation member of the West Liberty Rotary Club (in 2022 he was the oldest active member in Iowa, serving 71 years), where he was president from 1958-59 and 2010-11, president of Petroleum Marketers of Iowa in 1993-95 and received the "Bucket Box Award" for outstanding service to the Industry. He helped organize the West Liberty Country Club and was president in 1956. He was treasurer of the West Liberty Community Center Complex and secretary of the West Liberty Chamber of Commerce in 1954.
Tom and Mary Pat supported charities and no-profit organization such as the Rotary Foundation, Camp Courageous of Iowa, West Liberty Community School District Foundation, West Liberty Public Library, Ralph and Liz Farmer Community Center, Louis and Ida Rich Child Care Center, West Liberty Heritage Foundation, University of Iowa Foundation and the Herbert Hoover Memorial Library and Museum and the Children's Foundation and Orphanage in Manzanillo, Mexico. They were also very active in fund raising for many charities and non-profit organizations.
He is lovingly survived by his wife Mary Pat of West Liberty, three sons: Bruce (Patti) Brooke of Riverside, Darren (Lori) Brooke of West Liberty and Scott (Angie) Brooke of West Branch, 10 grand children and 10 great grandchildren also survive. He was preceded in death by his parents, and a granddaughter Chelsea Brooke.


Share Your Memory of
Thomas