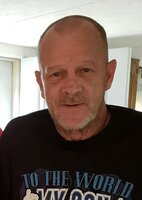 Jerry Michael Jacobsen
Muscatine, Iowa
Jerry M. Jacobsen, 68, passed away Tuesday, December 7, 2021 at his home.
No services are planned.
Memorials may be made to Jerry Jacobsen Memorial Fund.
Jerry Michael Jacobsen was born August 5, 1953 in Muscatine, Iowa the son of Donald and Fae (Hepker) Jacobsen. He was a graduate of Muscatine High School in 1971 and attended Muscatine Community College. On April 9, 1977 he was united in marriage to Carol King in Davenport. Jerry had been employed with Alcoa for several years and later worked with Mississippi Laser in Milan, IL for many years. He enjoyed camping, fishing and watching WWE wrestling. Most importantly was his love for his family.
Survivors include his wife Carol of Muscatine, four children: Julie Jacobsen of Muscatine, Brett Jacobsen of Muscatine, Samantha (Dan) Gosa of Davenport and Heather (Curtis) Bellinger of Muscatine, 8 grandchildren. Three siblings: Debra Jacobsen, Kevin Jacobsen and Rick (Bettie) Kennedy. He was preceded in death by his parents, and a son Clint.