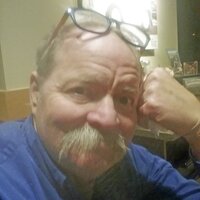 James Wooge
Ames, Iowa
LuVern James Wooge, Jr., passed away Wednesday, November 24, 2021, at Mercy One in Des Moines at the age of 64.
Private family services will be held Thursday, December 2, 2021, at the Henderson-Barker Funeral Home in West Liberty. Burial will be in the Oak Ridge Cemetery, West Liberty. Online condolences may be made to the family at www.hendersonbarkerfuneralhome.com. Memorials may be made to Ames Public Library Friends Foundation or the Animal Rescue League (ARL) of Iowa.
LuVern James Wooge known as James or Jamie was born January 24, 1957, in Bad Hersfeld, Germany the son of LuVern "Vern" James Wooge Sr. and Dorothy Eleanor (Tanner) Wooge. He was the son of a West Point graduate, spending his childhood traveling the world to the places his father was stationed. He was a graduate of North East High School in Philadelphia, PA where he was a member of NEHS' National Honor Society. He also attended Iowa State University where he was involved the Air Force ROTC, and later attended Des Moines Area Community College where he was inducted into the Phi Theta Kappa Honor Society. On August 26, 1989, he was united in marriage to Rebecca Sue Carey.
James worked at Donnelly Marketing in Nevada, and Super 8, Pizza Hut, Memorial Union at Iowa State University, QuikTrip and most recently as the Night Auditor at Holiday Inn Express and Suites in Ames. He was involved in ISU Bible Study, and a Commodore Club member. He enjoyed crossword puzzles, Mad Libs, cross sums, shopping clearance, trivia nights, reading, walking and music (especially classic rock).
He is survived by his wife Rebecca Sue Wooge of Ames, Iowa; son LuVern "Trey" James Wooge III of Ames, Iowa; sister Carole Jeanne (Ronald) Wepler of Belleville, Michigan; brother William Edward Edwin Wooge of Washington, D.C.; brother-in-law Thomas (Lucy) Carey of Ames, Iowa; brother-in-law James Carey (significant other Candace Coberly) of West Liberty; brother-in-law Gary Nealson of West Liberty; nephews and nieces Christopher Wepler of Belleville, Michigan; Nathan (Kim) Nealson of Grimes, Iowa; Kimberly (Brad) Smith of Centennial, Colorado; Amy (Brian) Mazeski of Aurora, Colorado; Ryan (Maureen) Carey of Toronto, Ontario; Lindsay (Barry) Koopman of Golden Valley, Minnesota; and BJ (Ryann) Carey of Hillsborough, North Carolina. He is also survived by aunts and an uncle, many beloved cousins, great nephews, great nieces, and friends.
He was preceded in death by his father Lt. Col. (ret.) LuVern James Wooge Sr., mother Dorothy Eleanor Wooge, father-in-law John William Carey, mother-in-law Dorothy Ella Carey, sister-in-law Connie Ann Nealson.