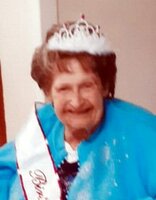 Barbara A. Grapengeter
West Liberty, Iowa
Barbara A. Grapengeter, 82, passed away Thursday November 11, 2021 at the Simpson Memorial Home in West Liberty.
A memorial service will be held 5 P.M. Monday, December 6, 2021 at the home of her daughter Dee Walker (310 Broadway St. Nichols, Iowa)
Barbara was born September 15, 1939 in Madison, Wisconsin the daughter of Rudolph Willy and Mary Allis (Ball) Frank. She was united in marriage to Jim Sherlock, following his death she married Harry Grapengeter, and they later divorced. Barbara had been employed with Eagle Signal in Davenport and as a banquet waitress at the Plantation in Moline. She had also sold Tupperware for many years.
Barbara was active in the Whole Truth Tabernacle Church in Silvis, enjoyed music, dancing, had raced stock cars and was an extra in a couple Lone Ranger movies. She dedicated her life to her kids, was a fantastic mother, grandmother and was an awesome cook.
She is survived by her five daughters: Julie Sherlock of Lone Tree, Dee Walker of Nichols, Rhonda Russo of Lone Tree, Barbie Walker of Scottsdale, Arizona and Andrea Walker of Muscatine. 13 grandchildren, 19 great grandchildren, sister Dianne Heinzel of Prescott Valley, Arizona and a nephew Jim White. She was preceded in death by her parents, husband Jim Sherlock and a daughter Lisa.