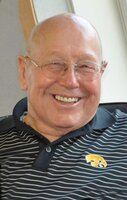 Neil K. Wiele
West Liberty, Iowa
Neil K. Wiele, 87, passed away Wednesday, November 10, 2021 at Mercy Hospital in Iowa City.
Private family services will be held 1:30 P.M. Sunday, November 14, 2021 at the West Liberty United Methodist Church. The funeral service will be live streamed via the Henderson-Barker Funeral Home Facebook page: https://fb.me/e/174jYCOzG , for those wish to view the service online. A casual (wear your Hawkeye or St. Louis Cardinal attire) memorial visitation/celebrating Neil's life will be held Sunday from 4 to 6 P.M. at the West Liberty Community Center, 1104 North Calhoun St. West Liberty. Online condolences may be made to the family www.hendersonbarkerfuneralhome.com. In lieu of flowers memorials may be made to Neil Wiele memorial fund.
Neil was born March 3, 1934 in Grandview, Iowa the son of Cecil and Frances Wiele. He was a graduate of Grandview High School in 1951.
Neil worked various jobs before becoming a GM business dealer, opening Wiele Chevrolet in September 1972 in West Liberty, which expanded to Columbus Junction in 1993 and Tipton in 2019. Neil passed away just 10 months short of celebrating 50 years as a GM business dealer.
On June 21, 1952 he was united in marriage to Jacklyn Duncan and they had three children, Tom (Bonnie) Wiele of Nichols, Diane (Steve) Meyerholz of Iowa City and Kent (Kim) Wiele of West Liberty. She passed away July 29, 1991. He later married Elaine Grouwinkel on July 11, 1992 in West Liberty and gained another family -Angie (Alan) Feldman of West Liberty and Chad (Jennifer) Grouwinkel of Ames.
Neil was very active in the community serving as a volunteer fireman for Wapello and West Liberty Fire Departments for 30 years, Lions Club, Jaycee's and a 50 yr member of Mt. Calvary Masonic Lodge. He enjoyed the Iowa Hawkeyes and St. Louis Cardinals, his frequent trips to Branson, his miniature ponies with the grandchildren, and most importantly watching the sporting events of his children and grandchildren.
He is survived by his three children, 10 grandchildren: Mandi (Troy) Wulf, Jeff (Tasha) Wiele, Mick (Tiffany) Wiele Ashlee (Avery) Meyers. T.J. (Megan) Meyerholz, Jill (Travis) Grager, Kelsie (J.J.) Garcia, Kayla (Andy) Morrison, Kasey (Taylor) Wiele, and Kory (Lindsey) Wiele. Also surviving are 26 Great-grandchildren and one on the way, Elaine's two children, 6 grandchildren: Katie (Austin) Hochstetler, Tyler, Spencer (Hannah) Feldman, Zach (Maddy), Sydney and Josh Grouwinkel and 2 great-grandchildren.