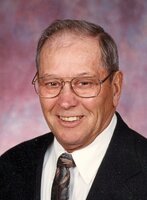 Lewie Peterson
Nichols, Iowa
Lewis Phillip Peterson, 93, passed away Wednesday, November 3, 2021 at the Simpson Memorial Home in West Liberty.
Funeral services will be held 10:00 A.M. Monday, November 8, 2021 at the United Methodist Church in Nichols. Visitation will be 2 to 5 P.M. Sunday at the Henderson-Barker Funeral Home in West Liberty. Online condolences may be made to the family at www.hendersonbarkerfuneralhome.com. Memorials may be made to Conesville Fire Department, Nichols Fire Department or the Nichols United Methodist Church.
Lewis was born September 22, 1928 in New Sharon, Iowa the son of William and Doris (Phillips) Peterson. He was a graduate of Conesville High School in 1947 and Iowa State University in 1951. He was a US Air Force Veteran, serving during the Korean War. On March 18, 1951, he married his high school sweetheart, Mary Lou Littrel in Columbus Junction, Iowa. Lewie had farmed with his brother William for many years and later worked at Hester Agriservice, Nichols Agriservice and Chown Appliance.
Lewie was a life member of the Conesville United Methodist Church and current member of Nichols Methodist Church. He served on the Columbus Community School Board and was a member of Lone Tree American Legion Post #457, Masonic Lodge and Muscatine County Cattleman's Association. He enjoyed woodworking, fishing, golf, traveling, a good joke and was able to participate in the Honor Flight traveling with his granddaughter Stefanie.
He is survived by two children: daughter, Rebecca (Thomas) Furlong of Letts and son, Paul (Mary Lynne) Peterson of Bellevue, Iowa. Grandchildren: Lucas (Heidi) Furlong of White Fish Bay, Wisconsin, Jacob (Lindsay) Furlong of Portland, Oregon, Ezekiel (Cassandra) Furlong of Portland, Oregon, Michael (Katie) Peterson of Bellevue, Iowa, Stefanie (Tylor) Till of Council Bluffs, Iowa. Also surviving are 8 great grandchildren, sister in law Martha Peterson of Nichols and brother in law Jack Greenlee of Davenport. He was preceded in death by his parents, wife Mary Lou in 2014, sister and brothers in law: Mary Ellen and Charles Hoag, Alice and Russell Orr, Donald and Arlene Buckman and brother William Peterson.