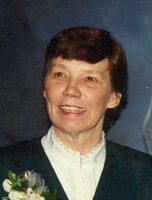 Clare Wicks
Iowa City, Iowa
Clare Wicks, 87, passed away Tuesday November 2, 2021 at Mercy Hospital, Iowa City after a brief illness.
Family burial will be at the Oakridge Cemetery in West Liberty. A memorial visitation will be held Saturday November 6, 2021 from 12 to 2 P.M. at the Henderson Barker Funeral Home in West Liberty. Memorials may be made to an animal shelter of the donor's choice.
Clare was born July 21, 1934 in Jacksonville, Florida. She graduated from Davenport Central High School and later received her bachelor's degree from the University of Iowa. She married Neil Wicks of Iowa City in 1955. He preceded her in death in 1995 after 40 years of marriage at the age of 62.
She grew up in a series of foster homes and orphanages. Clare and Neil owned and operated Maid-Rite in West Liberty for 30 years. Later she and her son-in-law operated a restaurant in Iowa City since 1984, most recently Platters Restaurant and Mama's Deli. She was a member of First Church United and the University of Iowa Alumni Association.
Clare is survived by 3 children: son Steve Wicks, Ivanhoe; daughters Karen Lenane and her husband Kevin, Iowa City; Lynn Silberstein and her husband Scott of Solon. 8 grandchildren: grandsons: Austin Lenane, Eric and Greg Wicks and Mitchell Silberstein and granddaughters are: Lindsay Adolphs, Dr. Courtney Nieland, Jackie Wicks and Katie Silberstein as well as 16 great grandchildren. She was preceded in death by her husband Neil and her 16-year-old son, Chris Eric in 1979 after an automobile accident.
.