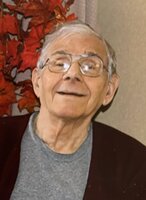 Robert Louis Helmer
West Branch, Iowa
Robert L. Helmer, 87, went to be with the love of his life October 29, 2021.
No public funeral services are planned. Family interment will be in the Springdale Cemetery, Springdale, Iowa. The Henderson-Barker Funeral Home in West Branch is caring for Bob's family. Memorials may be made to Crestview Care Center in West Branch.
Robert was born December 4, 1933 in Iowa City the son of Louis and Leatha Helmer. He was a graduate of U High School in Iowa City where he was active in many sports until an injury prevented him from playing, and attended the University of Iowa where he studied history. His family was in the grocery business, the most recent was the grocery store on Bowery Street that Bob and his mother operated. A neighborhood mom and son operated grocery store that is still standing now a heritage building. His children have fond memories of visiting the store; Grandma Helmer would always let the kids pick out a piece of candy. On May 13, 1962 he was married to Barbara Knowles in Iowa City. Bob and Barb lived in Spingdale for over 50 years before retiring to West Branch. When Barb became ill Bob visited her every day for 3 years at the Crestview Care Center, making sure she always had a fresh vase of flowers for her room.
He was a devoted catholic and a member of St. Bernadette Catholic Church in West Branch.
Bob was the founder of Iowa Parcel in Iowa City and operated it in the 70's-80's, following the sale of the business he began working in sales with Sears and Montgomery Wards in the tire department and drove to auto shops in Iowa and Illinois. Bob later sold shop towel, air fresheners and dishwashers to restaurants. He was never afraid of hard work and long hours to provide for his family. He enjoyed all kinds of sports and you could find him with sports on the TV, a ball game on the radio and a stamp album in his lap. He became ill in 2020 with colon cancer, then later liver cancer.
Bob was a lifelong collector of stamps and accumulated many albums of stamps of the places around the world that he enjoyed studying.
Survivors include his four children: Theresa (Bob) Arn of West Branch, Deborah (Duane) Chalupa of Riverside, Sharon (Dan) Hermansen of Alexandria, Minnesota and Louis Helmer of Cedar Rapids, 8 grandchildren and 9 great grandchildren. He was preceded in death by his parents, wife Barbara in 2018 and a sister Jean.