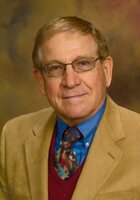 Jay Steen
M. Jay Steen, 93, passed away Tuesday, October 26, 2021 at the Simpson Memorial Home in West Liberty
Visitation will be held Friday October 29, 2021 from 4 to 7 P.M. at the Henderson-Barker Funeral Home in West Liberty. Funeral service will be 10 A.M. Saturday at the First Church United, West Liberty. Burial with military honors will be in the Oak Ridge Cemetery, West Liberty. Online condolences may be made to the family at www.hendersonbarkerfuneralhome.com. Memorial donations may be made to the Muscatine County Fair.
Melvin Jay Steen was born June 20, 1928 in West Liberty the son of George and Mary (Melick) Steen. He was a graduate of West Liberty High School in 1946, following graduation Jay served with the US Army from 1951-1953 serving in Japan as an armored tank mechanic. He was united in marriage to Janet (Bendixsen) Rauch and later Sheila (Fridley) Steen. Jay had farmed all his life, beginning with his father and brothers, George Steen and Sons.
Jay had served on Muscatine County Fair Board, County Conservation Board and West Liberty State Bank Board. He was named Outstanding Young Farmer Awards State of Iowa and Iowa Master Corn Grower in 1974. He was also a member of the West Liberty Lions Club, Masonic Lodge and Kaaba Shriner. He served as a trustee at the United Methodist Church and currently a member of the First Church United. He enjoyed growing sweet corn, planting trees, hunting and traveling.
He is survived by three daughters: Sheri Wagner (Korey) of Fond Du Lac, Wisconsin, Susan Deahr (Mike) of West Liberty and Sandra Kessler (Albert) of Coralville. Grandchildren: Jared Deahr, West Liberty, Ryan Deahr, West Liberty, Heather Kunce of Puyallup, Washington, Jackie Hager of Altoona, Iowa, Rachel Kessler of Vancouver, Canada, great grandchildren: Madelyn Deahr, Makenna Deahr, Callie Deahr, Blakley Deahr, Zoey Kunce and Wade Deahr. He was preceded in death by his parents, siblings: Fred Steen, Logan Steen, Pauline Waters and Ethel Waters.
Jay's favorite saying as to how he lived so long; "pure thoughts, clean living and steady ways."