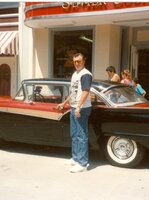 Calvin Lee Flater
Muscatine, Iowa
Calvin Lee Flater, 82, passed away Tuesday, October 26, 2021 at his home.
A memorial visitation will be held Sunday October 31, 2021 from 1 to 3 P.M. at the Henderson-Barker Funeral Home in West Liberty with a celebration of life to be held immediately following at 3 P.M. Online condolences may be made to the family at www.hendersonbarkerfuneralhome.com. Memorials may be made to the University of Iowa Children's Hospital or a charity of the donor's choice.
Calvin was born April 16, 1939 in Iowa City, Iowa the son of John Russell and Eula Mae (Shaffer) Flater. He was a graduate of West Liberty High School in the class of 1958. On May 8, 1960 he was united in marriage to Norma Lee Moneymaker at the Cedar Valley United Methodist Church, West Liberty.
Calvin has been a farmer most of his life, and later drove truck for Hahn Ready Mix until his retirement. He was a member of Cedar Valley United Methodist Church, West Liberty Country Club where he hit a hole in one on #2, enjoyed the Iowa Hawkeyes, Chicago Bears and Cubs and fried chicken. For many years he raised and showed miniature horses; winning horse of the year in 1996 and was inducted into the Miniature Horse Hall of Fame in Nashville the same year.
He is survived by his wife Norma of Muscatine, two children: Valerie Johnson of Muscatine and Jim (Michele) Flater of Davenport. 4 grandchildren: Jordan Paul Johnson, Alexis Lee Johnson, Kylie Renee Flater and Marissa Nicole Flater as well as one great grandson Jake Owen Rodgers. He was preceded in death by his parents and a sister Virginia Flater Hutton.