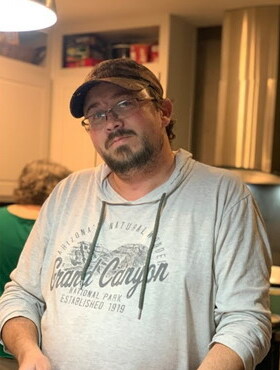 Patrick Cantrell
James Patrick Cantrell, 47, passed away Thursday, October 14, 2021 at his home.
Patrick was born March 22, 1974 in Smithville, Tennessee the son of Dwight Cantrell and Carol Skinner. On May 30, 1995 he was united in marriage to Catherine Robinson in Gordonsville, TN. Patrick was a jack of all trades; working as a farm helper, an electrician's assistant, and a stay at home dad among other things. Things he enjoyed were walleye fishing, bow hunting, and his boys say he was a CS Go gamer extraordinaire.
Survivors include his wife: Catherine Cantrell, five boys: Eric Cantrell, Cole Cantrell, Seth Cantrell, Alexander Cantrell, Kish Cantrell all of West Liberty, Iowa, parents: Carol & Bernie Washer Alexandria, Tennessee, siblings: Alice (Mike) Wills of Alexandria, TN, , David (Angela) Cantrell Alexandria, TN, Daniel Cantrell Smithville, TN, Nephews & Nieces: Steven Wills, Paige Cantrell, Austin Cantrell, Shane Young, Ethan Cantrell, Ava Cantrell, many cousins, both beloved and distant, friends: Johnny Skinner (cousin), Jason Hale and others. He was preceded in death by his father and his grandparents.
Graveside services and interment will be 3:PM Thursday October 21, 2021 at Young Bend Cemetery with Family officiating. Visitation will be Thursday 1:PM until 2:45 PM at which time he will be taken to the cemetery for the graveside service. In lieu of flowers, memorial donations can be made to assist the family through the funeral home, or Cantrell Family gofundme: https://gofund.me/c8aacdb3 or to any mental health awareness foundation or services. The funeral home lounge is closed at this time and no food or drinks are allowed in the funeral home. DeKalb Funeral Chapel is in charge of the arrangements.