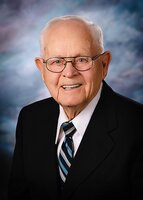 Darrell Edward "Ike" Eickelkamp
West Liberty, Iowa
Darrell (Ike) Edward Eickelkamp, 94, formerly of Dubuque passed away at the Clarissa C. Cook Hospice House in Bettendorf, IA on September 29, 2021.
Visitation will be held 1:00 to 3 P.M. Sunday October 3, 2021 at Henderson Barker Funeral Home in West Liberty, Iowa. Family burial will be in the Nishnabotna Cemetery in Manilla, Iowa. Online condolences may be made to the family at www.hendersonbarkerfuneralhome.com
Ike was born March 2, 1927 in Huron, South Dakota. He was the only child of Ed and Frieda Eickelkamp. In 1941, the family settled in Atlantic, Iowa. Ike graduated from Atlantic High School in May of 1945 and was promptly drafted into the Army in June that same year. He spent 10 months in Germany with the Big Red One Unit and was honorably discharged in October of 1946.
August 27, 1950, he married Shirley Anderson in Atlantic. They moved to Dubuque in 1952 where they shared 71 years of marriage and raised 5 daughters. In 2020, Ike and Shirley moved to Heath Manor in West Liberty to be closer to family.
Ike worked as a livestock buyer for Armour and Company and then the Dubuque Packing Company until it closed in 1985. Ike joined Coldwell Banker, Dominic Goodman Real Estate and became a broker-relator for the tri-state area until his retirement at age 91.
Ike was an avid outdoorsman and enjoyed hunting, fishing, shooting trap, and dogs. Ike never met an unwanted Labrador he didn't rescue and bring home. Ike spent considerable time and energy at the Dubuque Izaak Walton League where he was the first president and made countless friends. He was admired for his shooting skills shooting 24 out of 25 clay pigeons on a bad day, and he didn't have many bad days.
He was a member of Westminster Presbyterian Church, Izaak Walton League of Dubuque, VFW, American Legion, Ducks Unlimited, and Shot Tower Inc.
Surviving are his wife, Shirley, three daughters, Peggy Steffen of West Liberty Iowa, Karen (Tom) Wilson of Bettendorf Iowa, Susan Eickelkamp (Joe Schmid) of Warrens, Wisconsin, Son-in Law-Kevin Doerr of McFarland Wisconsin, 14 Grandchildren and 11 Great Grandchildren. He was preceded in death by his parents and daughters Linda Eickelkamp and Carol Doerr as well as a grandson Brandon Steger.
Memorials may be given to Dubuque Chapter of the Izaak Walton League (P.O. Box 184, Peosta, IA 52058) or the Dubuque Regional Humane Society (https://www.dbqhumane.org).