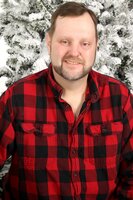 John Lee Crow
West Liberty, Iowa
John L. Crow, 50, passed away Sunday, September 19, 2021 at his home.
Graveside service will be held 2 P.M. Friday, September 24, 2021 at the North Prairie Cemetery, West Liberty. Visitation will be 3 to 7 P.M. Thursday at the Henderson-Barker Funeral Home in West Liberty. In lieu of flowers a memorial fund has been established. Online condolences may be made to the family at www.hendersonbarkerfuneralhome.com.
John Lee Crow was born October 29, 1970 in Iowa City the son of Donald and Marilyn (Swailes) Crow. He was a graduate of West Liberty High School in 1989. He was employed with Purethane in West Branch for 10 years and later Oral B in Iowa City until 2009. John was a member of Bethany Lutheran Church in West Branch, United Kennel Club, NRA, was an advocate for pro gun rights, and worked with Fathers for Equal Rights.
Survivors include two children: Kody Crow of West Liberty and Cheyanne Crow of Cedar Rapids. Mother: Marilyn Crow of West Liberty, two sisters: Meta Crow of Tiffin and Tina Webb of Cedar Rapids. He was preceded in death by his father and grandparents.