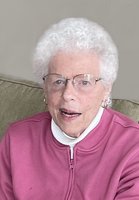 Leone D. "Polly" Maher
West Branch, Iowa
Leone "Polly" Maher, 84, passed away Saturday, August 7, 2021 at Mercy Hospital in Iowa City.
Funeral services will be held 10:00 A.M. Friday, August 13, 2021 at St. Bernadette Catholic Church in West Branch. Visitation will be held Thursday, 5 to 8 P.M. at the Henderson-Barker Funeral Home in West Branch. Burial will be held in the West Branch Cemetery. A memorial fund has been established. Online condolences may be made to the family at www.hendersonbarkerfuneralhome.com. .
Leone D. was born November 18, 1936 in Cedar County, Iowa the daughter of Francis and Freda (Pedersen) Gruwell. She was a graduate of Springdale High School in 1954. On August 31, 1963 she was united in marriage to Joseph Patrick "Pat" Maher at St. Mary's Catholic Church in Tipton.
Polly had worked with the University of Iowa in the College of Nursing for 18 years.
She was a member of St. Bernadette's Catholic Church, Springdale Social Club, Self Culture Club, enjoyed reading, sewing, working jigsaw puzzles, playing dice games with family and friends, and most importantly spending time with her family.
Survivors include her children: three Daughters: Teresa (Kris) Kober, Rhonda (David) Shultz, and Patricia Harpole all of West Branch. One son: Jeffrey Maher of West Branch. 6 grandchildren: Joseph Maher, Max (Jamie) Kober, Alice Kober, Brandon Shultz, Madison Harpole and Gabe Harpole, one great granddaughter: Quinn Kober, and a brother Robert (Reta) Gruwell of West Branch. She was preceded in death by her parents, husband Pat, three brothers: Ron, Eugene and Edward Gruwell, and two sisters: Thelma Baysinger and Marilyn "Jo" Marshall.