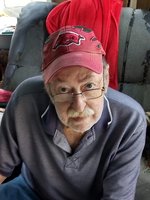 Jimmy Lloyd Jaco
Jimmy L. Jaco, 77, passed away at his residence in Milton, FL on July 11, 2021. Jimmy was blessed to have his daughter, granddaughter and grandson-in-law, and 2 great granddaughters all living in the home with him. He was constantly surrounded with love.
Funeral services will be held 10:30 A.M. Tuesday, July 20, 2021 at the Henderson-Barker Funeral Home in West Liberty. Visitation will be Monday from 5 to 8 P.M. at the funeral home. Burial will be in the Overman Cemetery, Atalissa. Memorials may be made to Jimmy Jaco memorial fund. Online condolences may be made to the family at www.hendersonbarkerfuneralhome.com.
Jimmy was born in Arkansas and was well known for his Razorback ball caps that he wore He was a hard working man and worked in the steel mills in many states. He took great pride in his work and providing for his family.
In his younger years he enjoyed playing golf and baseball and dancing. After he retired he enjoyed spending time with his family. He was blessed with 2 wives, 2 children, 2 grandchildren and 3 great grandchildren.
Surviving are his daughter, Paquita Jaco, son, Jimmy D. Jaco, granddaughter Ashley Chase, 2 great granddaughters Autumn Chase and Makayla Peterson and a great grandson Alexander McGourty.
Proceeding him in death are his wife Lori Schuhow, both his parents, Harley R. Jaco and Mittie V. Rorex, 9 siblings, Tommy Jaco, Leroy Jaco, Harley T. Jaco, Richard Jaco, Genieva Jaco, J.B. Jaco, Leon Jaco, Kenneth Casebier, Ailene Casebier-Morgan and 1 grandchild, Bradley McGourty.