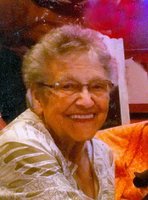 Shirley K. Humphrey
West Branch, Iowa
Shirley K. Humphrey, 87, formerly of Clinton, passed away Saturday, June 19, 2021 at Crestview Specialty Care Center in West Branch.
No services are being planned.
Shirley was born June 13, 1934 in Bellevue, Iowa the daughter of John Lyle and Violet (Kuehl) Hasken. She was a graduate of Bellevue High School in 1951. On July 6, 1963 she was united in marriage to Charles Humphrey in Mt. Carroll, Illinois. She had been employed at Grant's Department Store in Clinton and Kunau Implement in Preston, Iowa retiring after 27 years. She enjoyed gardening and crafts.
Survivors include her husband Charles of West Branch. Three children: Warren Humphrey of Williamsburg, Iowa, Barbara (Mike) Fulton of West Branch and Rae (Brent) Deney-Gluesing of Clinton a special aunt Elaine Huebner of LeClaire. Also surviving are 5 grandchildren: Brent, Ryan, Jennifer, Jake and Danielle as well as 4great grandchildren: Chanel, Mya, Aziyah and Warren. She was preceded in death by her parents, brother Larry, sister Bonnie and a brother in law Jake.