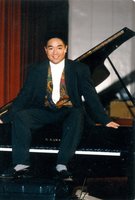 Lee Nguyen
Lee Huynh Nguyen, a pianist, voice coach, music director, chef, and IT consultant, has unexpectedly journeyed onward to his eternal home where his true citizenship belongs at age 44. He was born in Charles City, Iowa on October 6, 1976 to Du & Hoa Nguyen. From a young age, his deep passion for music was first sparked through attendance at his family's church. Despite their meager income, his parents worked tirelessly to provide him with piano lessons in order to support his passion. As the youngest and most musically gifted child amongst his seven other siblings, he received a scholarship to study at Interlochen Arts Academy in Michigan his junior year in high school. In 1995, he graduated from Charles City High School and went on to attend the University of Iowa, where he pursued his dream of music. Taking rigorous pre-med and music courses, he went on to earn a Bachelor of Arts in piano performance in 2000. He served as a music director for a number of venues including the Old Creamery Theater, Cedar Rapids Opera Theatre, Cornell College, and Nolte Performing Arts Academy. He was a pianist/keyboardist at Theatre Cedar Rapids, choral accompanist, vocal coach, and piano technician at Linn Mar High School. He was also a private piano instructor, an accompanist for University of Iowa students, City Circle Theater in Coralville, City High and West High School in Iowa City, Liberty High School in North Liberty, Barrett Vocal Arts, Fryvecind Voice Studio, and numerous others. Every student he taught, every music venue he attended, every time he performed, Lee touched the lives of everyone whose paths he crossed through both his infectious personality and his incredible talent.
In his spare time, he enjoyed making sushi and entertaining friends with his contagious laughter and playful teasing. He took pleasure in playing a mean game of ping pong, tennis, and volleyball. He was a true friend and always willing to extend a helping hand to those near to him. From bringing them cookies to mowing their yard, to repairing their electronic devices, he served others in any and every way he could. He was constantly telling jokes and putting a smile on everyone's face by regularly finding the positives in all circumstances. He made everyone feel loved and special through his music and his charismatic personality. May his memory inspire all to love sacrificially as he did. While Lee will be incredibly missed by his family and friends, his greatest joy now is playing beautiful music at the feet of his Lord and Savior.
Lee is survived by his mother, Hoa T. Nguyen of Coralville, IA; brother Thanh Hai (Ut) of Mason City, IA; sister Thanh Huong (Joel Hockman) of Placentia, CA; brother Don (Melody) of Geneseo, IL; sister, Thu Ha (Thomas Dixon) of Adel, IA; brother, Huy (Cheryl) of Maple Grove, MN; brother Hoang (Lisa) of Davenport, IA; and brother Chin of Coralville, IA; nieces and nephews: Hoa, Joshua, Kristen (Nick Kleppe), Kristopher (Phia), Keely, Amelia, Andrew, Zach, Lily, Josh, Jordan, Ethan, Maya; and great nephew Phoenix.
He is preceded in death by his father, Du K. Nguyen, and niece Kylee Nguyen.
Visitation for Lee will be held on Friday, June 18th, from 6-8 P.M. at St. Andrew Presbyterian Church in Iowa City. Memorial Service will also be held at the same location Saturday, June 19th at 10 A.M. with burial in Charles City. In lieu of flowers, memorials may be made to the Lee Nguyen Memorial Fund at any Hills Bank & Trust.