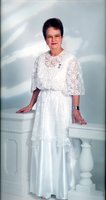 Arlene Katherine Keith
West Liberty, Iowa
Arlene K. Keith, 89, passed away Thursday, May 13, 2021 at the University of Iowa Hospitals and Clinics in Iowa City.
Visitation will be held Sunday from 5 to 7 P.M. at the Wilton United Methodist Church, Wilton, Iowa and Monday from 5 to 7 P.M. at the West Liberty United Methodist Church, West Liberty, Iowa where an OES service will be held following visitation at 7 P.M. Private family funeral service will be held Tuesday at the West Liberty United Methodist Church. Memorials may be made to Arlene Keith Memorial Fund. The Henderson-Barker Funeral Home in West Liberty is caring for Arlene's family. The funeral service will be live streamed to the Henderson-Barker Funeral Home Facebook page: https://www.facebook.com/hendersonbarkerfuneralhome, Tuesday 10:00 A.M.
Arlene was born October 9, 1931, rural Moscow, Iowa the daughter of Alvin Newton and Edna Marie (Jensen) Roberts. She was a graduate of Atalissa High School in the class of 1948 and later Muscatine Community College with an associate degree and certificate to teach elementary school. For 2 years she taught at Penn Ave. country school south of Atalissa. She later attended Iowa State Teachers College (University of Northern Iowa) and in 1954 graduated with a B.A. in Elementary Education. On June 19, 1955 she was united in marriage to the love of her life Derwood Keith in Wilton. In the fall of 1954 she began teaching, working in Wilton, Durant and Bennett retiring in 1979. In January 1980 she and Derwood moved to West Liberty to make their home. Arlene and Derwood owned and operated the Flower and Gift Shoppe in West Liberty from 1975 until 1989.
She was a member of the Wilton and West Liberty United Methodist Churches, OES serving as Past Matron of the Lotus Chapter, West Liberty, Past Grand Martha of the Grand Chapter of Iowa, and past Grand Representative to New Brunswick, Canada OES, Fortnightly Literary Club where she was past president and past county co-chairwoman and past Grand Representative to New Brunswick, Canada OES, as well as a proud member of Chapter AH, P.E.O. for 35 years.
Survivors include her husband of 65 years, Derwood, brother: Nevin (Janice) Roberts of Muscatine, sister in law: Tina Keith of West Liberty. Nieces and nephews: Marcia (Roberts) and Brad Berreth, Mary (Roberts) and Kevin Wood, Valerie (Keith) and Pat Congdon, Laurie (Keith) and Kurt Heckman, Brian Keith and Jack Keith. She was preceded in death by her parents, 2 brothers in laws: Donald and Vernon, sister in law: Evelyn.