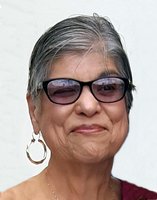 Maria Ester Sanchez
West Liberty, Iowa
Maria Ester Sanchez, 67, passed away Thursday, May 6, 2021 at her home.
Funeral mass will be held 10:30 A.M. Saturday, May 8, 2021 at St. Joseph Catholic Church, West Liberty. Burial will be in the Oak Ridge Cemetery, West Liberty. The Henderson-Barker Funeral Home in West Liberty is caring for Maria's family. Online condolences may be made to the family at www.hendersonbarkerfuneralhome.com.
Maria was born January 3, 1954 in El Palomar, Durango Mexico the daughter of Pedro and Aquilina (Castro) Rocha. In 1970 Pedro and Aquilina moved their family to West Liberty. On November 7, 1986 she was united in marriage to Jose D. Sanchez in Muscatine. Maria had been employed with Louis Rich Foods for 25 years.
She was a member of St. Joseph Catholic Church in West Liberty. She enjoyed gardening, cooking and feeding all and most importantly her family.
Survivors include her husband Jose of West Liberty. Two children: Azeneth (Gustavo) Zamores of West Liberty and Edgar (Melissa Sepulveda) Sanchez Rocha of Berkeley, Illinois, two granddaughters: Kiana (Bairon) Jordan and Shanelle Zamores. Three brothers: Alvaro (Fidencia) Rocha, Pedro Castro (Maricela) Rocha and Miguel (Dolores) Rocha all of West Liberty. She was preceded in death by her parents and three brothers: Federico, Javier and Rolando.