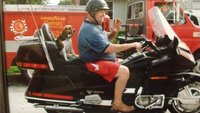 Linus Earl Wagner
Atalissa, Iowa
Linus Earl Wagner, 74 passed away Thursday, March 18, 2021 at his home in Atalissa.
Visitation will be held 3 to 6 P.M. Monday, March 22, 2021 at the Henderson-Barker Funeral Home in West Liberty. Online condolences may be made to the family at www.hendersonbarkerfuneralhome.com. The Henderson-Barker Funeral Home in West Liberty is caring for Linus' family.
Linus was born January 22, 1947 in Princeton, Indiana the son of Lincoln and Edna Wagner. He was a graduate of Fort Branch, Indiana High School. On March 25, 1996 he was united in marriage to Linda Millage in Barton, Florida.
He had worked for Louis Rich Foods in West Liberty for many years, retiring in 1996, and later worked for Dave Dvorak Farms in West Liberty. He enjoyed camping, fishing, rabbit hunting with his dog, and having family and friends over to gather around a bonfire. Most important was his wife, children, grandchildren and great grandchildren.
He is survived by his wife Linda of Atalissa. Three children: Karla (Gregorio Campo) Wagner of Belleview, Washington, Karin (Bart) Evans of Windham, Iowa, and Bethie (Mike) Honts of Hills. Three sisters: Dinana "Dina" Roth, Marilyn Mills and Gayle Rostron. Six grandchildren and four great grandchildren also survive. He was preceded in death by his parents, eight siblings: Paul, Jerry, Richard, Emma, Marcella, Dennis, Barbara, Jeanette, and Joyce.