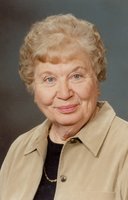 Audrey Millage
Grace Audrey Millage, 91 of West Liberty, formerly of Kersey, CO passed away on Friday March 12, 2021 at her home.
Audrey was born on August 22, 1929 in Sanborn, IA to John and Sadie (Krause) Van Dyke. She graduated from Sioux Falls High School and then received her BA in Language Arts from Central College in Pella, IA. She married Donald Millage on April 17, 1955 in Sioux Falls, SD. He preceded her in death in 1980.
Audrey was a member of Faith Baptist Church Iowa City. She enjoyed keeping her home and yard, bookkeeping for the farm, refinishing furniture, collecting clocks and chairs.
Visitation will take place at 9 AM on Tuesday, March 16, 2021 at Faith Baptist Church Iowa City with the service immediately following at 10 AM.
Interment will take place at Lynn Grove Cemetery in Greeley, CO.
She is survived and lovingly remembered by her sons: Bruce (Shelley) Millage of Millersburg, OH, Eric (Jeanne) Millage of Kersey, CO and David (Sydney) Millage of West Liberty, IA, her grandchildren: Sarah (Stephen) Wakefield, Stephanie, Megan, Mark, Matthew, Grace, Rachael and Laura and her great granddaughter Sharlotte Wakefield.