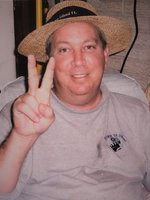 Paul Holbrook
Paul Holbrook, 59, of Iowa City, IA, went home to be with the Lord on Tuesday March 2, 2021. Paul embodied selflessness and loved his daughters above all. He was a proud and wonderful father, grandfather, brother and uncle. Paul was one cool cat, a friend-to-all, and will be greatly missed.
A celebration of life will be held at 1pm-5pm on Saturday, March 6, 2021 at the Moose Lodge in Iowa City. There will be an 'open mic' hour from 3pm-4pm and friends and family are invited to share their favorite Paul story with attendees. The Henderson-Barker Funeral Home is caring for Paul's family. Online condolences may be made to the family at www.hendersonbarkerfuneralhome.com. In lieu of flowers memorial donations may be made to Paul Holbrook Memorial Fund, %Henderson-Barker Funeral Home, PO Box 46, West Liberty, Iowa 52776.
He was the fifth of fourteen children born March 3, 1961 to the late Reaves and Illene (Moore) Holbrook in Iowa City, Iowa. He attended Central Jr. High and West High School in Iowa City.
Paul had been employed with Mercy Hospital in Iowa City as an excellent and caring manager for 25 years. He was a friend to everyone, always considering the needs of others in a gentle and selfless manner.
He was father to Rachel and Elissa and step father to Joy, Lisa, Matt and Stephanie. He was happy outdoors and had a masterful green thumb. He enjoyed antique restoration and collecting and had a big tool collection. Paul loved music and collecting records, traveling to Cancun to enjoy the sunshine, and was a skilled poet and sketch artist. At home he was surrounded by a beloved collection of family photos.
He is survived by: his daughters, Elissa Holbrook (Nic Evans), Rachel (Shaun) Short, and his love Danielle Holbrook. Step Children: Joy (Stephen) Boyd, Lisa (Will) Speicher, Matt and Stephanie Reinhold. Eight Grandchildren: Reece, Fiona, Finnegan, Tate, Tanner, Scarlett, Fiona and Liam.
Also surviving are his siblings and their families: Juanita (Joe), Norma, and Janie Tanner; Tammy (Jon), and Paul Obe; Tom (Kathy), Olivia, and Clayton Holbrook; Lindy Holbrook; Cyndi, David, and Sean Neal; Chris (Rosie) Holbrook; Nick, Macy, and Kinzee Holbrook; John Holbrook; Missy Holbrook and Charles, Collin, Caleb, and Carter Clark; Amy (Bob), Zane, Blain, and Lane Jensen; Racheal, Tatum, Matthew, and Pam Hills; Mildred (Whitey), Greg and Brandon Feldman; Aaron (Amber), Hayden and Fallon Breckner; nieces Caullie Murphy and Alyssa Holbrook; and sisters in law Jeri and Belen Holbrook.
He is preceded in death by his parents, Reaves and Illene Holbrook, and brothers James "Bo" Holbrook, Charles Walter Holbrook and Reaves Martin Holbrook.