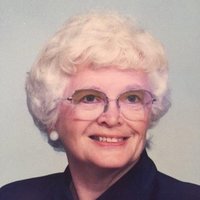 Helen Petersen
West Branch, Iowa
Helen (Erickson) Petersen, 90, long-time resident of West Branch, Iowa, passed away peacefully on December 30, 2020.
A memorial visitation will be held Friday, April 23, 2021 from 4 to 6 P.M. at the Henderson-Barker Funeral Home in West Branch. Graveside services will be held 2 P.M. Saturday, April 24, 2021 at Memorial Park Cemetery in Sioux City, Iowa. The Henderson-Barker Funeral Home in West Branch is caring for Helen's family. Online condolences may be made to the family at www.hendersonbarkerfuneralhome.com. Memorial donations may be made to Bethany Lutheran Church in West Branch.
Helen was born and raised on a farm in Hartington, Nebraska, to parents Henry and Mable (Swihart) Erickson. She lived in Sioux City, Iowa, and was married to Donald Petersen. They moved to and worked on the family farm in Le Mars, Iowa. The family moved to West Branch, Iowa, where she raised her family and lived for 50 years before moving to North Liberty, Iowa. Helen was employed by the University of Iowa Staff Benefits Office for over 20 years. She was a member of Bethany Lutheran Church, West Branch, and Trinity Lutheran Church, North Liberty.
Her surviving family members are Karen Brown (Gary) of Erie, Colorado; Steven Petersen (Kimberly) of North Liberty, Iowa; and Jack Petersen (Rhonda) of Lincoln, Nebraska. Helen was a proud grandmother of eight and great-grandmother of six. She is preceded in death by her parents; former husband; twin daughters, Marilyn and Carolyn; and her brothers Kenneth Erickson, Leonard Erickson, Keith Erickson, and August Erickson.