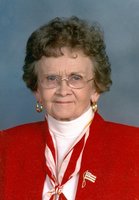 Phyllis Jean Sondergard
West Branch, Iowa
Phyllis Jean Williams Sondergard, 95, passed at Crestview Specialty Care in West Branch on August 14, 2019.
A visitation with family will be held 9:30 Friday, August 30, 2019 at the West Branch Methodist Church, followed by a 10:30 memorial service also at the church. A private burial will be at the West Branch Municipal Cemetery. Online condolences may be made to the family at www.hendersonbarkerfuneralhome.com. The Henderson-Barker Funeral Home in West Branch is in charge of arrangements. Memorials may be directed to Appreciation Park, West Branch, Care Initiatives Hospice or the West Branch Methodist Church.
Phyllis Jean Williams Sondergard was born to Gladys Walter and Harold Williams Sr. at rural Tipton, Iowa on August 19, 1923. When she was six the family moved to a farm west of Springdale. She graduated from the Springdale High School in 1941.
She continued her education at Iowa State Teachers College, Cedar Falls, where she earned a two year teaching certificate in 1943. Phyllis taught in Belle Plaine, West Liberty, and Stanwood prior to marriage. In 1962 she resumed her teaching career at Springdale, and ended as a third grade teacher in West Branch, completing 20 years of teaching. She loved her students and her students loved her.
Her marriage to Herbert Sondergard took place August 11, 1946 in the Springdale Methodist Church. To this marriage two daughters were born, Karen Jean and Kathryn Anne.
Through the years, Phyllis was very active at the Springdale and West Branch Methodist Churches, charter member of Chapter CW TTT, Mary Martha Circle, Federated Club, County Republicans, Self Culture Club, the Legion Auxiliary, decades long neighborhood bridge club, round robin and reunions with lifelong college friends. She and friend, Evelyn Lynch were instrumental in starting a kindergarten and PTA at the Springdale School.
Phyllis enjoyed reading, writing, family history, the Hawkeyes, UNI Panthers, Chicago Cubs, and many friendships. She loved her country and most of all her family.
The Sondergard grandparents celebrated their five grandchildren with the acronym of JAMMMs, Jonathan, Andrew, Melissa, Megan, and Marnie. For a number of summers the five grandchildren experienced JAMMMs week with their grandparents in West Branch. Field trips, sweet corn, trips to Casey's, Wacky Waters, sleeping together on the floor were highlights.
The grandparents followed the JAMMMs in many sports and other activities over the years. They were their biggest fans. After Herb passed, Phyllis continued to treat the family at destinations for Thanksgiving, Easter and Fry Fest, where many memories were made.
In 2001 Phyllis, at age 78 and the JAMMMs went to Herrlisheim, France on the Rhine where Grandpa Herb earned a Purple Heart in WWII. The group also visited Paris and the beaches of Normandy. Dedicated to the service of all vets, Phyllis and West Branch friends Norm and Pat Bickford discussed the need for a site devoted to them. The result was Appreciation Park, on Main Street West Branch which was dedicated in 2012.
Those left to lovingly celebrate Phyllis' life, are her two daughters, Karen (Tom) Wenstrand, Mt. Pleasant, and Kathy (Doug) Reimer, Guttenberg; Grandchildren Melissa (Chris) Reimer Reade, Andrew (Mindy) Reimer, Megan (Paul) Wenstrand Jacobson, Marnie (Tony) Wenstrand Lackman and Jonathan Reed Wenstrand; Great- grandchildren Caeley, Keagan, Dane and Liv Reade, Hayden and Jack Reimer, Cadon Jacobson, and Alex and Kohl Lackman.
Phyllis was preceded in death by her husband in 2000, her parents and one brother, Harold Williams Jr.
The family of Phyllis would like to recognize the administration and staff of Crestview Specialty Care, Care Initiatives Hospice and Dr. Heithoff and his staff for the dedicated, kind and gentle care shown Mom during her last months.