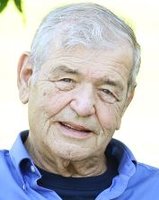 Pat Wildenberg
West Branch, Iowa
On Sunday June 2, 2019, Joseph Patrick Wildenberg, father, and friend passed away.
If you met Pat, you knew you were in good company and his passing leaves a void. A visitation will be held at the Henderson Barker Funeral Home (West Branch) on Friday July 5 from 4:00-7:00 and a funeral mass is scheduled for Saturday July 6 at 10:00am at St. Bernadette's Church in West Branch.
The son of Joseph and Jeanette (DeBruin) Wildenberg, Pat was born in Pensacola, FL on St. Valentine's Day in 1943 and grew up in Little Chute, WI. A seminarian who chose not to be ordained, his life was one of service of all kinds from Boy Scouts to helping individuals one on one. He was a man of smiles and stories, a peaceful problem solver who believed in kindness, decency and concentrating on a personal morality instead obsessing over others.
Pat was an archivist at the Hoover Library for over 35 years but was most comfortable outside wearing his flannel shirt, smoking his pipe, and working with his hands. Pat also had a love of people and went out of his way to make new friends.
Pat was married for 50 years to Mary Wittak Wildenberg and was famously devoted to her throughout their lives. After Mary's brain injury he adapted to support her needs but Pat, Mary, and the wheelchair didn't stop there. They traveled throughout the US, Central America, Europe, and Australia having many great adventures together and blazed their own trails. In recent years it was typical of Pat to drive 360 miles per week to visit Mary at the Morning Sun Care Center.
Pat is survived by a son Andy Wildenberg (Carrie La Seur), daughters Liz (Vinicio) Wildenberg de Hernandez and Joanna (Sam) Sabha, and six grandchildren Neda, Cora, Henry, Alia, Hilda, and Malcolm. He also leaves behind a brother Henry (Theresa) Wildenberg, sister Catherine Van Gompel, brother-in-law John (Mary) Wittak, 15 nieces and nephews, numerous grand nieces and nephews, and a new generation of great grand nieces and nephews. He loved them all.
Pat was preceded in death by his wife Mary, sisters Janice and Janet, brother-in-law James, nephew Carl, his parents and parents-in-law Hilda and Clarence Wittak.