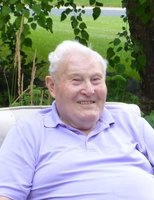 Duane Hills
Duane W. Hills age 87 of West Branch, Iowa passed away on Saturday May 4, 2019 at his daughter's home in Waconia, MN.
Celebration of Life Service will be Saturday May 11, 2019 at 1:00 P.M. at the Henderson Barker Funeral Home (201 Pedersen St.) in West Branch, Iowa; gathering of family and friends Saturday from 11:00 A.M. until the time of the service.
Duane was born on October 26, 1931 in West Branch, Iowa the son of George and Mary Alice (Westcott) Hills.
After graduating from Iowa City High School, Duane attended Iowa State University and served two years in the U.S. Army.
On October 23, 1955 Duane was united in marriage to Joan Stutsman. Together they bought a farm east of Iowa City. Following his retirement from farming he worked at McCabe Implement, moving to West Branch, where he was active in Kiwanis and the community.
Duane's devotion to John Deere tractors and the Iowa Hawkeyes never faltered.
Duane always had a smile on his face and a picture to share. He enjoyed morning breakfast at Reid's Beans, monthly coffee club gatherings and visiting old friends. He cherished traveling with his family, especially his annual fishing trip to Canada. This winter he got to experience ice fishing for the first time, even though he got skunked. Duane's first love was visiting his daughters Lisa and Angie, their families and friends in Minneapolis. Being "Papa" to Gabby and Brynna brought him the most joy of all.
Duane was preceded in death by his wife Joan; infant son John; son Steven Hills; parents George and Mary Alice Hills and sister Marjorie Haedrich.
Duane is survived by his loving family: daughters Lisa Hills and husband Rick Fiman of Eden Prairie, and Rick's two sons, Ben & Mike and their families; Angela Foss and husband Trevor of Waconia; grandchildren Gabriella "Gabby" Foss, Brynna Foss; brother Eldon Hills and sister Mariel Sotzen of Iowa City, Iowa; extended family and many friends.
In lieu of flowers, memorials preferred to Ridgeview Hospice in Waconia, MN.
Arrangements with the Johnson Funeral Home in Waconia, MN www.johnsonfh.com and Henderson-Barker Funeral Home, West Branch.