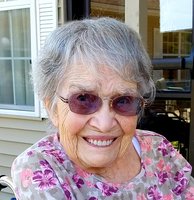 Mary Jane Phelps
Mary Jane Phelps 90, of West Branch passed away on Friday, April 26, 2019 at Crestview Specialty Care.
Mary Jane was born in Tama, IA on August 29, 1928 to James and Anna (Zeman) Yanda.
She married William "Bill" Phelps on August 29, 1949 in Toledo, IA. He preceded her in death on December 30, 2005. Mary Jane worked the farm and homestead for many years. She worked as a waitress at several restaurants before she went into daycare until retiring. She was very active with the United Methodist Church of West Branch. She loved to work in the garden and loved to crochet and sew. She loved being around all of her kids, grandkids, and great grandkids.
She is survived by her 2 sisters: Ruth Ann Tomlinson of Marshalltown, IA and Dorthy Smith of Melrose, IA. Her four children: Rosemary Phelps of Kansas, E. Ann Aubrecht (Kenny) of Iowa City, Larry Phelps (Cindy) of Texas and Linda Schnoebelen of Iowa City, 8 grandchildren, 13 great grandchildren and 1 great-great grandchild on the way.
She was preceded in death by her husband, her parents, her sister Ella Jean Demeyer and a grandson Gene Phelps.
Visitation will be held on Tuesday, April 30, 2019 from 9AM until the time of the service at 11AM at the Henderson-Barker Funeral Home in West Branch. Burial will take place at the West Branch Cemetery.
A memorial has been established in her memory.