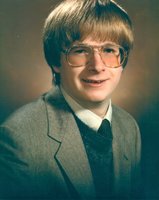 John William Hobbs
Golden, Colorado
John W. Hobbs, 51, formerly of West Liberty passed away Saturday, February 16, 2019 at his home.
Funeral mass will be held 10:30 A.M. Monday, February 25, 2019 at St. Joseph Catholic Church in West Liberty. Visitation will be Sunday from 4 to 6 P.M. at the Henderson-Barker Funeral Home in West Liberty. Burial will be in the Mt. Calvary Cemetery, West Liberty. A memorial fund has been established. Online condolences may be made to the family at www.hendersonbarkerfuneralhome.com.
John was born July 3, 1967 the son of Donald and Dorothy (Dick) Hobbs. He was a graduate of West Liberty High School in the Class of 1986 and Indian Hills Community College in Ottumwa, Iowa in Laser Electrode Optics. For the past 28 years John has worked an accomplished laser, optics, LabVIEW programmer and mechanical designer/engineer. He has been employed with Power Path Technology, Coherent Technologies, Lockheed Martin and most recently as a self employed contractor and Consultant Technologist in the Laser and Optics Industry. John held a patent in side pumped lasers.
He enjoyed working with anything electronic, was a self taught computer programmer, flying remote controlled devices; drones, airplanes, helicopters, tinkering and repairing all kinds of things including cars and a snowmobile, was a glider pilot, enjoyed the outdoors, living in the Rocky Mountains and fishing.
Survivors include his mother Dorothy, four siblings: Teresa "Terri" (Craig) Ford of Tipton, David Hobbs of Buffalo, NY, Kathryn (Bob) Bader of Buffalo, NY, Jennifer Hobbs of Davenport as well as his companion Shelby the puggle. He was preceded in death by his father Donald Hobbs and step father Gene Kunkel.