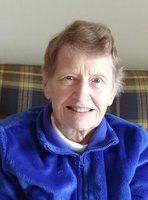 Loletha June Oxley
Iowa City, Iowa
Loletha Oxley, age 80 of Iowa City and formerly of West Liberty died at home on February 6, 2019 with her husband of 60 years and her daughter by her side.
Funeral Service will be held on Monday February 11 at 10:30 am at the Henderson - Barker Funeral Home in West Liberty. Visitation will be that morning starting at 9 am until service time. Burial will take place at Oak Ridge Cemetery in West Liberty following the service. Online condolences may be made to the family at www.hendersonbarkerfuneralhome.com. In lieu of flowers, a donation may be made to either Iowa City Hospice 1025 Wade St Iowa City IA 52240 or Our Redeemer Lutheran Church 2301 Court St Iowa City IA 52245.
Loletha was born at Mercy Hospital in Iowa City to Clifford and Emma (Liska) Feldman and grew up on the family farm just outside of West Liberty. She graduated from West Liberty High School third in her class. She then went to trade school in Omaha, NE. She then came back to West Liberty and worked at Boden Insurance and Moore's Business Forms before her ultimate career of being a house wife and mother.
She married Donald E. Oxley on November 2, 1958 at Our Redeemer Lutheran Church in West Liberty. Loletha spent many years teaching Sunday School and Vacation Bible School at Our Redeemer. She loved being outdoors spending time and caring for her large vegetable garden and flower beds – many Sundays during the summer you could find a bouquet of her flowers on the alter at church.
Loletha is survived by her husband, Donald of Iowa City; two children Dwight (Anne) Oxley of Coralville, Lacinda (Brent) Taplin of Marion; one grandchild William of Coralville; and two sisters Luetta Feldman of Coralville and Luella Feldman of Des Moines. She was proceed in death by her parents.
A special thank you to Dr Scott Miller and staff at Mercy Hospital, Dr David Bender and staff at University of Iowa Hospital & Clinics and to the staff at Iowa City Hospice