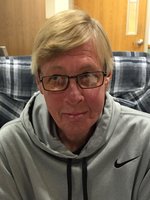 Brett Allen Reinhardt
West Liberty, Iowa
Brett A. Reinhardt, 59, passed away Sunday, February 3, 2019 at the University of Iowa Hospitals and Clinics in Iowa City.
A memorial visitation will be held 5 to 8 P.M. Thursday at the West Liberty Community Center 1204 North Calhoun St. West Liberty. The Henderson-Barker Funeral Home in West Liberty is in charge of arrangements. Online condolences may be made to the family at www.hendersonbarkerfuneralhome. Memorials may be made to the West Liberty Rescue Unit.
Brett was born July 10, 1959 in Cedar Rapids, Iowa the son of Richard and Beverly Joanne (Woode) Reinhardt. He was a graduate of West Liberty High School in 1977. He had been employed with Louis Rich and West Liberty Foods for 37 years.
Brett enjoyed golfing, vacationing on a beach and especially enjoyed his grandchildren. He was a member of the Sons of American Legion.
He is survived by three children Jamie (Joy) Reinhardt of Lisbon, Misti (Tom) Donovan of Iowa City and Laramie Reinhardt of Arizona, significant other Janet Marin of West Liberty, sister Penny Oswald of Lone Tree and Stub (Mick) Reinhardt of Windom, Minnesota. Four grandchildren: Chloe Donovan, Jetta Reinhardt, Ryan Donovan and Jovi Reinhardt. He was preceded in death by his parents.