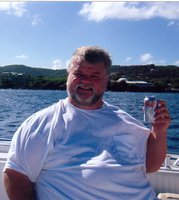 Daniel Charles O'Donnell
West Liberty, Iowa
Daniel Charles O'Donnell, 56, passed away Wednesday January 30, 2019 at the University of Iowa Hospitals and Clinics in Iowa City.
A celebration of life will be held at 12 P.M. Sunday, February 3, 2019 at the West Liberty Community Center, 1204 North Calhoun Street, West Liberty. In lieu of flowers, memorials can be made to the Iowa Donor Network and Dan's family would encourage everyone to become registered organ donors. The Henderson-Barker Funeral Home in West Liberty is in charge of arrangements. Online condolences may be made to the family at www.hendersonbarkerfuneralhome.com.
Dan was born September 21, 1962 in Iowa City the son of Charles and Margaret (Goody) O'Donnell. He attended West Liberty Schools. He was previously married to Robin (Sivia) Durian, Henrietta (McCullah) Furchtenicht and on September 22, 2007 was united in marriage to Wanda Powers in West Liberty.
He had been employed with B & B Machine in Muscatine, JR's Car & Truck Repair in West Liberty, Royal Machine Foundry in Davenport, and he founded, owned, and operated Daisy Hog Waterers in Atalissa. Dan acquired many great friends through each of those jobs.
Dan enjoyed being at his cabin in the woods, taking hot laps on his various motorcycles, "cruising around" town, cooking and canning, and joking with his family and friends. Dan was a big guy with an even bigger heart, and would open his door to anyone in need. Through the years he invited many family, friends, and strangers to move in and share his home.
Survivors include his wife, Wanda; 6 children: Mike (Sara) O'Donnell of Kalona, Misty O'Donnell of Montezuma, Kevin Prewitt of Coralville, Heather "Piglet" Powers of West Liberty, Shauna Hargrave of Muscatine, and Joshua Brockert of San Diego, California; 9 grandchildren: Maddie and Lily O'Donnell, Landen and Carsen Tyree, Eliza, Aisha, and Meru Hargrave, Matthew and Joshua Brockert; two brothers Dennis (Laurie) O'Donnell of Marengo and David (Dena) O'Donnell of Wellman; and many dear friends. He was preceded in death by his son, Matthew, his parents, his step-father, Ronald Christy, and his sister, DeAnna "Booie".
Dan's family would like to thank Hospice of Washington County, the Palliative Staff at UIHC, and everyone else who helped him through the years.