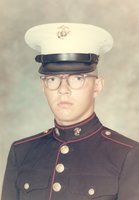 Paul Eugene Flanegan Sr.
West Branch, Iowa
Paul Eugene Flanegan Sr., 65, passed away Wednesday, January 30, 2019 at his home in Downey.
Visitation will be held Monday from 4 to 7 P.M. at the Henderson-Barker Funeral Home in West Branch. Inurnment will be in the Rock Island National Cemetery. Online condolences may be made to the family at www.hendersonbarkerfuneralhome.com. In lieu of flowers memorial donations may be made to the West Branch American Legion or Paul Flanegan Memorial Fund.
Paul was born March 31, 1953 in Iowa City the son of James and Irene (Cavin) Flanegan. He was a graduate of Kirkwood and the University of Iowa where he received his B.A. in Asian Languages and Literature. Paul served in the United States Marine Corps and Army. He taught Japanese and Spanish, later operating a moving business, charter bus service and most recently the Veterans Administration Hospital.
On August 19, 1993 Paul was united in marriage to Sonia Margarata in Calamba, Philippines.
He was a member of the American Legion.
Survivors include his wife Sonia, two children: Paul Jr (Kylie) Flanegan of Mechanicsville and Jamie Flanegan of West Branch. Sister Mary Valdez of West Branch and George (Unyo) Flanegan of Iowa City. He was preceded in death by his parents, Brothers: Patrick, Virgil and James, Sister Barb.