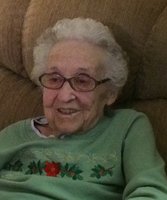 Ruth Marie Chelf
Ruth Marie (Siders) Chelf, 95, passed quietly late Friday, January 25, at the Simpson Memorial Home in West Liberty.
Funeral services will be held 7 P.M. Tuesday, January 29, 2019 at the Henderson-Barker Funeral Homes in West Liberty. Visitation will be Tuesday from 4 to 7 P.M. with the service to follow. Interment will be in Oak Ridge Cemetry, West Liberty. Online condolences may be made to the family at www.hendersonbarkerfuneralhome.com. In lieu of flowers memorial donations may be made to Ruth Chelf memorial fund.
Born December 15, 1923, in rural Cedar County, the daughter of Ralph and Nellie (DeVore) Siders. Ruth joined a bustling farm family of two brothers (Earl and Kenneth), and two sisters (Lois and Edith). Little sister Arlene rounded out the family a few years later.
Depression years saw the Siders family moving a few times, but Ruth's younger years remained as fond memories. Her pony, Prince, remained as one of her fondest enduring memories, as she and a girlfriend spent many hours playing in the woods, with Prince watching as they picked flowers and berries.
A one-room country school and pony rides to and from gave Ruth a strong sense of determination and self-reliance. Both traits served her well in later years.
Junior high years in Tipton, followed by high school graduation from West Liberty and a brief start at Rock Island Business College rounded out Ruth's education in 1941.
As WWII broke out in 1941, Ruth and the love of her life, Kenneth Chelf, knew his call to service was imminent, and they married on December 20, 1941 in Muscatine, attended by her sister and brother-in-law, Edith and Jack Fulwider. The couples remained tightly bonded for the rest of their lives.
During the War, Ruth accompanied Kenny on assignments in Indianapolis, Salt Lake City, and briefly in Seattle. She never forgot many of the adventures, new friends, and the challenges of the WWII years. She was, indeed, a member of the Greatest Generation.
In January, 1946, Ruth and Kenny returned to the West Liberty-Atalissa community, and never left. Kenny farmed in Atalissa from 1946 until his death in January, 1968. Son Wayne and daughter Marilyn joined the farm couple, and Ruth became a farm wife and mother.
In the mid-1960's Ruth re-entered the work force, as many farm wives were doing. She began working part-time during income tax season with attorney Robert Barclay in West Liberty.
Kenny passed away in January, 1968, and Ruth sold the farm and moved to West Liberty, where she began working at the Wuestenberg Agency. When brother-in-law Jack Fulwider purchased the Wuestenberg Agency in 1968, Ruth continued as the Agency secretary and administrative assistant. She worked in the Agency with Jack, and subsequently with his son Bob and his wife Jan until Ruth's reluctant retirement in 1996. She was a lifetime member of the Order of Eastern Star.
In 2008 Ruth moved to Heath Manor and enjoyed several years there, until a fall incapacitated her and caused a move to assisted living. With age and further health changes, Ruth moved to Simpson Memorial Home, where she resided until her passing.
Surviving Ruth are son and daughter-in-law Wayne and Marcia of Dawsonville, GA, daughter and son-in-law Marilyn and Ken Hartzell of Moscow, four grandchildren, Derek Chelf of Tucker, GA, Kenton Chelf of Scottsville, VA, Emily (Hartzell) Rogers of Moscow, Deanna (Hartzell) Arrowood and her husband TJ of Shawano, WI, and five great-grandchildren, Hannah and Gatlin Rogers, Austin, Aiden, and Amery Arrowood, and numerous nieces and nephews.
She was preceded in death by her parents Ralph and Nellie (DeVore) Siders, brothers Earl and Kenneth Siders, sisters Edith Fulwider, Lois Puderbaugh, and Arlene Highly, and their respective spouses, as well as nephews Larry Siders, James Siders and Daniel Fulwider.