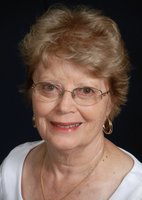 Janet Friis
West Branch, Iowa
Janet Ann Friis, 82, passed away Monday, January 14, 2019 at the Crestview Specialty Care Center in West Branch surrounded by her loving family.
Funeral services will be held 11 A.M. Saturday, January 26, 2019 at Bethany Lutheran Church in West Branch. Visitation will be Saturday January 26th from 9 to 10:30 at the Church prior to the service. Online condolences may be made to the family at www.hendersonbarkerfuneralhome.com. The Henderson-Barker Funeral Home in West Branch is in charge of arrangements. A memorial fund has been established. Burial will be in the West Branch Cemetery.
Janet was born June 27, 1936 the daughter of Leroy and Wilma (Stamp) Friedrichsen. She was a graduate of Stanwood Consolidated High School in 1954 and the University of Iowa Nursing School, receiving her LPN degree.
On August 14, 1955 she was united in marriage to Paul Friis in Olin, Iowa and they moved into their farm house which was built with the help of Paul's family. Janet was very proud of her family and the farm. She worshiped and was very active in Bethany Lutheran Church where she was involved with the ladies "Circle" Bible study group. She enjoyed making cloths for the pulpit and cookies for the annual "Cookie Walk".
Janet was a leader for the local 4-H group and Girls Scouts. After the children were older she worked at ACT in Iowa City as a Senior Clerk for 19 years.
She loved hummingbirds, traveling, boating, couples card club, cooking, baking, knitting, sewing, cross stitching, crocheting, stamping greeting cards, nurturing her beautiful vegetable and flower gardens enjoying her favorite yellow roses and sharing the bounty of her gardens with family and friends.
Survivors include her husband Paul, four children: LeAnn (Dan) Beatty of Minnetrista, Minnesota, Lynn (Michael) Mayhew of Eau Claire, Wisconsin, Curtis (Carla) Friis of West Branch and Kirsten (John) Fry of Beaver Falls, Pennsylvania. 9 grandchildren: Mat (Jenny) Winegarden, Blake (Summer) Friis, Jay Wendt, Erika (Dustin) Walters, Ben Friis, Christine (Colin) Charlson, Andrea, Natalie and Lynnell Fry, 12 great grandchildren: Christopher and Mya Winegarden, Chase and Carver Charlson, Gabe, Cooper and Parker Friis, Grace, Hannah, Isaac and Madelyn Walters and Dempsey Wendt. Sister Sandy (Larry) Paulson of Clear Lake, Iowa and brother in law: Herb (Karen) Friis of West Branch. She is also survived by several nieces and nephews. Janet was preceded in death by her parents, father and mother in law: Marius and Alice Friis, brother in law: Larry Wiskus, two nephews Jon and Joe Friis and a niece Shari Friis.