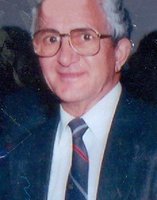 John Zaimes
West Liberty, Iowa
John Zaimes, 93, passed away Tuesday, January 8, 2019 at his home.
Funeral service will be held 11 A.M. Monday January 14, 2019 at St. George Greek Orthodox Church in Rock Island, Illinois. Visitation will be Sunday from 1 to 3 P.M. at the Henderson-Barker Funeral Home in West Liberty where a Trisagion Service will be held at 3 P.M. Burial will be in the Chippiannock Cemetery, Rock Island, Illlinois. Online condolences may be made to the family at www.hendersonbarkerfuneralhome.com.
John was born May 30, 1925 in Katafygio, Greece the son of George and Kathy Zaimes. In 1955 he moved from Greece to Duluth, Minnesota where he was employed with Diamond Tool Co. On July 23, 1961 he was united in marriage to Joanna Hasapis in Katerini, Greece. John had worked in the pizza restaurant business most of his life; he moved from Duluth to Platteville, Wisconsin in 1969 to join his uncle in a pizza business. In 1976 the family moved to Muscatine and he opened John's Pizza before coming to West Liberty in 1984 where he owned and operated Hawkeye Pizza, retiring in 1990.
He was a member of St. George Greek Orthodox Church in Rock Island, IL. John was also an avid walker, and competed three-times in the 50 M, 1,500 M and 5,000 M Run/Walk in the Iowa Senior Olympics in 2009, 2010 and 2011, winning four gold medals and one silver medal, collectively.
Survivors include his wife, Joanna, of West Liberty. Three children: George of West Liberty, Mike (Lois) of Gilbert, AZ and Tom (Minette) of Iowa Falls, 5 grandchildren: John, John, Jonah, Joanna and Peyton. Two brothers: Pat and Nick and a sister Alexandria. He was preceded in death by his parents and two sisters, Maria and Stella.