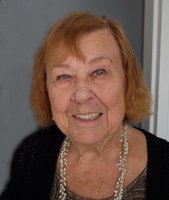 Mary Jean Johnson
West Branch, Iowa
Mary Jean Johnson, 89, passed away suddenly Monday, December 17, 2018 at Mercy Hospital in Iowa City.
A memorial mass will be held 9:30 A.M. Friday, December 21, 2018 at St. Bernadette Catholic Church in West Branch. Visitation will be held 1 hour prior to the service at the church. In lieu of flowers memorials may be made to American Legion of Iowa Foundation, 720 Lyn Street, Des Moines, Iowa 52309. Inurnment will be in the West Branch Cemetery. Online condolences may be made to the family at www.hendersonbarkerfuneralhome.com. The Henderson-Barker Funeral Home in West Branch is in charge of arrangements.
Mary Jean was born April 26, 1929 in Cedar Bluff, Iowa the daughter of Amos and Blanche (Krupna) Suchomel. She was a graduate of Tipton High School. On October 13, 1947 she was united in marriage to Donald E. Johnson at St. Bridget's Catholic Church, Nolan Settlement. They raised their family for many years in West Branch before moving to Virginia. She has resided in Iowa City for the past two years.
Jean was a member of St. Bernadette Catholic Church, American Legion Auxiliary of Iowa and other community endeavors. She enjoyed gardening, sewing and reading.
Survivors include her children: Alan (Rozanne), David; Brian (JoAnn), Kevin, Julie, Kurt (Cathy), Joan, Beth, and Susan (Benji); brother: Bob Suchomel (Vivian), Sister Marlene and many grandchildren and great grandchildren. She was preceded in death by her husband, son Robert, granddaughter Hillary, great granddaughter Vivian, sisters: Irene, Lillian, Marcella, Betty and brother Bill.