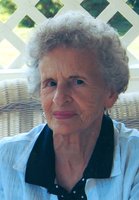 Nannette Janney
West Liberty, Iowa
Nannette Janney, 86, passed away Monday, December 10, 2018 together with her family at the Simpson Memorial Home in West Liberty.
Funeral service will be held 10:30 A.M. Friday at St. Joseph Catholic Church in West Liberty. Visitation will be held Thursday from 4 to 7 P.M. at the Henderson-Barker Funeral Home in West Liberty. Burial will be in the Oak Ridge Cemetery, West Liberty. Online condolences may be made to the family at www.hendersonbarkerfuneralhome.com. Memorials may be made to Camp Courageous or Nan Janney Memorial Fund.
Nannette was born August 7, 1932 in Eden, Michigan the daughter of Roy and Laura (Voss) Torrance. She was a graduate of Las Cruses New Mexico High School. She was working in a drug store in Las Cruses when she met her future husband Richard while he was stationed at White Sands Military Base. Nan and Richard were united in marriage on July 11, 1952 in Las Cruses. They moved to West Liberty in 1953 where Nan had worked as a waitress for many years at the India Cafe, Crystal Cafe and Downtower.
She was a member of St. Joseph Catholic Church, American Legion Auxiliary, enjoyed cooking and baking and would share her cookies and food with many relatives and friends. She was a volunteer at the Simpson Memorial Home and worked doing crafts and making popcorn.
Survivors include her husband Richard, three daughters: Lori (Mark) Simpson of Bonaparte, Iowa, Jeannette (Dan) Christofferson of Nichols and Karen (Ron) Connelly of Washington, one son Rick of Wilton, 10 grandchildren and 15 great grandchildren. She was preceded in death by her parents, sister Illene and a brother Terry.