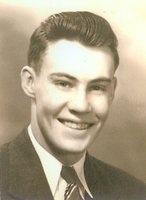 Donald F. Wilson
West Liberty, Iowa
Donald F. Wilson, 90, passed away Friday, June 29, 2018 at the Simpson Memorial Home in West Liberty.
Funeral service will be held 11:00 A.M. Thursday, July 5, 2018 at the First Church United in West Liberty where visitation will be from 9:30 AM until service time at 11:00. Burial will be in the Oak Ridge Cemetery, West Liberty. Online condolences may be made to the family at www.hendersonbarkerfuneralhome.com. Memorials may be made to the West Liberty Heritage Foundation, PO Box 352, West Liberty, Iowa 52776. .
Donald was born March 17, 1928 at West Liberty the son of John and Etta (Gregg) Wilson. He was a graduate of West Liberty High School in the Class of 1946 and attended Iowa State University. On September 14, 1957 he was united in marriage to Frances Royer in Winfield, Iowa.
Don was a US Army veteran serving in Europe, post WWII. He had farmed in the West Liberty area all his life.
He had served on the Muscatine County Soil Conservation Board, Muscatine County Extension Office, past President of the West Liberty Lions Club and served on the Grinnell Mutual Insurance Board.
Don was a fun loving man who had a smile and laugh for everyone. He had lots of friends and enjoyed the company of others. He was willing to listen and eager to know what was happening in his loved ones' lives. In his younger days, he threw exceptional parties- often involving games of golf in his yard. He was a busy farmer who enjoyed providing and creating fun things for his loved ones to be entertained. Treehouses, playhouses, swings, motorcycles, snowmobiles, go-carts and horses are just a short list of recreational items he provided on his farm!
Survivors include two daughters: Elizabeth (Dann) Oldani of St. Louis, Missouri and Debbie Wilson of Iowa City, one granddaughter AnnMarie Oldani of St. Louis and special friend Fern Davis of Iowa City. He was preceded in death by his wife Frances in July 1982 and two brothers Richard and John Jr.