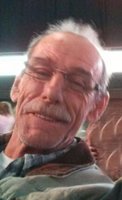 Randy Logan Koch
West Liberty, Iowa
Randy Logan Koch, 64, formerly of Union, Missouri passed away Thursday, April 26, 2018.
A memorial graveside service will be held 10 A.M. Friday, May 4, 2018 at Mid Lawn Memorial Gardens Cemetery in Union, Missouri. Online condolences may be made to the family at www.hendersonbarkerfuneralhome.com. The Henderson-Barker Funeral Home in West Liberty is in charge of arrangements.
Randy was born January 30, 1954 in Washington, Missouri the son of Raymond and Marie (Roark) Koch. He attended Union High School, Union, Missouri. On December 20, 1975 Randy was united in marriage to Juanita Loyd at the First Baptist Church in Union. He had lived in Missouri for many years working on several farms, was an over the road truck driver for 20 years and in 2015 moved to West Liberty and was currently working with Regennitter Farms.
He enjoyed throwing darts, fishing, hunting, walking trails, playing cards, tinkering with anything and most importantly spending time with his family.
Survivors include his wife Juanita, son Joshua Koch and daughter Laura Lee Holtmeier all of West Liberty. 4 grandchildren: Zachary Reed of St. Clair, Missouri, Cora Reed of St. Clair, Harry Lackey of West Liberty and Samuel Holtmeier Jr. of West Liberty. Four siblings: Elsie Koch of St. James, Missouri, Pete (Kathy) Koch of Washington, Missouri, Geraldine (Frank) Peirick of Union, Missouri and Charles (Joann) Koch of Union. He was preceded in death by his parents, daughters: Kimberly Koch, Rebecca Koch and Sara Lackey, granddaughter Kayla Reed, brother Bud Koch and sister Shirley McEwen.