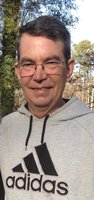 Timothy Blair Gow
Muscatine, Iowa
Timothy Blair Gow, 61, passed away Saturday, March 17, 2018 at the University of Iowa Hospitals and Clinics in Iowa City.
No funeral services are planned. The Henderson-Barker Funeral Home in West Liberty is in charge of arrangements. Online condolences may be made to the family at www.hendersonbarkerfuneralhome.com.
Tim was born March 3, 1957 in Muscatine the son of Lawrence Bernard and Marcella Jean (Blair) Gow. He was a graduate of Muscatine High School in the Class of 1975.
Tim had been employed at HON in Muscatine, moved to South Carolina and worked there for several years before returning to Muscatine.
Survivors include three children: Tiffany Fetes of Bettendorf, Iowa, Nicholas (Alyshea) Gow of Muscatine and Sarah (Aureliano) Padilla of Muscatine. Mother Marcella Gow of West Liberty, brother: Tom (Janice) Gow of South Carolina and sister: Cyndi (Pete) Spinden of Nashville, TN. 3 grandchildren also survive. He was preceded in death by his father and a sister Laurie Gow.