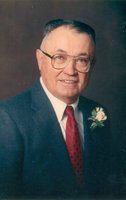 Kenneth William Ruess
West Liberty, Iowa
Kenneth William Ruess, 93, passed away Tuesday, August 8, 2017 at the Simpson Memorial Home in West Liberty.
Funeral mass will be held 10:00 A.M. Monday, August 14, 2017 at St. Joseph Catholic Church in West Liberty. Visitation will be held 4 to 7 P.M. Sunday at the church. Burial will be in the Mt. Calvary Cemetery, West Liberty. Additional information and online condolences may be made to the family at www.hendersonbarkerfuneralhome.com. Memorials may be made to St. Joseph Church, West Liberty Ambulance or Iowa City Hospice.
Kenneth was born November 16, 1923 the son of Louis F. and Margaret (White) Ruess. He was a graduate of West Liberty High School in the Class of 1941. On October 18, 1947 he was united in marriage to Bessie K. Shimak, she passed away May 7, 1986. He later married Mary Jane Simpson on January 10, 1987. Kenny had farmed the family farm and raised Poland/China Hogs. He farmed for many years with good friend and neighbor Louie Hormel. He enjoyed playing cards, telling stories, traveling, dancing and was most proud of his children, grandchildren and bonus family. He was a member of St. Joseph Catholic Church.
Survivors include his wife Mary Jane Ruess of West Liberty, two daughters: Phyllis (Donnie) Rife of West Liberty, Karen (Mike) Parizek of Lone Tree, grandchildren: Melissa Carter, Jenn (Mike) Rife, Stacey (Eric) Alvarez, Peggy (Allan) Behrens, Jacque (Todd) Behrens, Carrie (Dan) Ronan, Brent (Amy) Parizek and John (Tara) Parizek, 11 great grandchildren. Step children: Ron (Deb) Simpson, Lindsey (Deb) Simpson, Sheri Chelf, Julie (Scott) McKillip and Marc (Lisa) Simpson, 20 grandchildren and 42 great grandchildren and 2 great great grandchildren and sister Donna Rickel. He was preceded in death by his parents, wife Bessie, daughter and son in law: Ken and Elaine Behrens and sister Kathaleen Whitman.