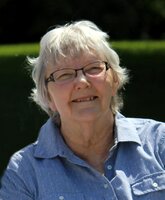 Rhonda Leanne Swanson
West Branch, Iowa
Rhonda L. Swanson, 73, passed away Tuesday, May 9, 2023 at Crestview Specialty Care Center in West Branch.
No services are planned. Memorials may be made to Rhonda Swanson memorial fund.
Rhonda was born June 30, 1949 in Hampton, Iowa the daughter of Donald and Byrdetta (Randall) Wehrman. She was a graduate of West Branch High School and Evangelical School of Nursing in Marshalltown in 1970. On April 4, 1974 she was united in marriage to Daniel Swanson in Las Vegas, Nevada. Rhonda had worked as a nurse for 50 years; beginning in at St. Luke's Hospital in Cedar Rapids before moving to Nevada where she worked at Washou Hospital, St. Mary's Hospital and COS outpatient surgery center all in Reno, NV. In 2009 Rhonda and Dan moved to West Branch where she spent the last years at the University of Iowa Hospitals and Clinics, retiring from Iowa City Ambulatory Surgery Center in 2021.
She enjoyed crafting, reading, fishing, camping and loved her animals.
She is survived by her husband Dan, brother: Randal (Jeanne) Wehrman, 4 neices: Kristin, Anne, Leah, Sara and their families. She was preceded in death by her parents, sister Romelle and a sister in law Beth.