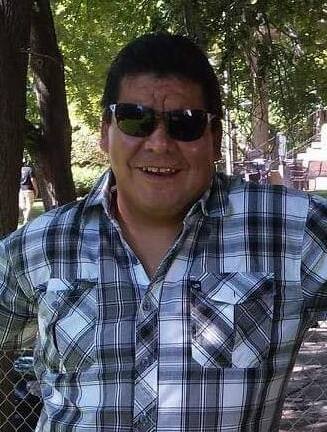 Juan Rocha
Juan Jose Rocha Esparza was called home on Wednesday, April 19th, 2023.
Juan Jose Rocha Esparza was born to parents Lorenzo Ortiz Rocha and Gregoria Esparza Rocha on October 18th, 1966 in Piedras Negras, Coahuila Mexico. He k immigrated with his family to the United States in 1971 and spent most of his life living in Iowa. He attended school in West Liberty and was employed at Louis Rich Foods, later West Liberty Foods, where he met Karin Elaine Wagner. Together they welcomed the birth of his first born, Jessica Nicole. He was married to Kimberly Ann Dearmore in 1993, and together they had daughters Alicia Ayanna and Melissa Adriana. He was a proud father, always doting on his daughters. Some of their greatest memories come from walks to the bakery for paletas, playing kickball in the yard, and spending summers at the pool.
Though he was born Juan Jose, he liked to refer to himself as Juan 'The Rock' Rocha. His siblings knew him as Juano, and his daughters will always remember him as their Daddy-O Twinkle Toes. Juan had many nicknames, but he would tell you his greatest accomplishment was earning the title "Papa." Nothing made him happier than watching his family grow and spending time with his grandchildren. He loved them dearly and was always thinking of them.
Juan enjoyed large family get togethers, Adam Sandler movies, cruising around in his Buick Riviera (the R stood for Rocha) and watching the fights on Saturday nights, but he especially loved Hawkeye football. Juan lived for Hawkeye football. He was also an avid fan of the Dallas Cowboys - and their cheerleaders.
Juan is preceded in death by his parents Lorenzo and Gregoria Esparza Rocha, brother; Pilar Rocha, and sisters; Ana Maria Shryock and Maria Marcela Ramos. He is survived by his daughters; Jessica Rocha (Roman) Birman of Marion Iowa, Alicia (Kevin) Robinson of Eudora Kansas, and Melissa Rocha of Atalissa Iowa. Eight grandchildren; Ava Elizabeth, James Daniel, Athena Mae, Chloee Ann, Nora Noel, Josephine Grace, Madison Porter, and Morgan Elliott. Brothers; Isidro Rocha and Lorenzo Rocha. Sisters; Evangelina (Jose Luis) Garcia, Maribel (Angel) Montelongo, Maria Isabel Rocha (James) Hall and many cousins, nieces, and nephews.
Juan will be remembered for the love and pride he had for his family and friends, his sense of humor, and his love of pizza, mole, and cooking out.
Visitation will be held at the Henderson-Barker Funeral Home in West Liberty on Thursday, April 27th from 12 to 3 P.M. Family is invited to a private visitation from 10 AM to 12PM, with a prayer service lead by Pastor Concepcion Rivera at 10:30 AM. Funeral service will be held at Oak Ridge Cemetery in West Liberty at 3PM and will be officiated by Pastor Concepcion Rivera. A celebration of life will follow at the Independent Pentecostal Christian Church in West Liberty.
Pallbearers will include: Alex Vazquez, Angel Montelongo Jr, Diego Rocha, Elias Rocha, Hector Vazquez, Israel Montelongo, James Fernando Shryock, James Hall Jr, Lorenzo Montelongo, Santiago Ramos Jr, Tyler Rocha, and Xavier Hall.
In lieu of flowers memorial donations may be made to his daughters or via GoFundMe at https://gofund.me/23ef1849.