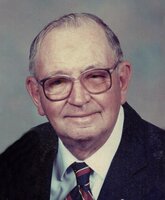 Edward F. Eichelberger
West Liberty, Iowa
Edward F. Eichelberger, 95, passed away Wednesday, March 15, 2023 at Mercy Hospital in Iowa City.
Visitation will be held 5 to 7 P.M. Tuesday, March 21, 2023 at the Henderson-Barker Funeral Home in West Liberty. A Private family service will be held at a later date, with burial in the Oak Ridge Cemetery, West Liberty.
In lieu of flowers a memorial fund has been established.
He was born September 19, 1927 in Muscatine, Iowa the son of O.E. and Mary (VanZandt) Eichelberger . He was a graduate of Muscatine High School.
On September 18, 1949 he was united in marriage to Helen Jean Lewis, they later divorced.
From 1966 to 1982 he served as Secretary/Manager of the West Liberty Fair. He served in many offices including president of the Association of Iowa Fairs and was a member of the board of directors of the Iowa State Fair.
On September 17, 1981 he was united in marriage to Viola Schuessler and moved to Des Moines where he became the manager of interim events at the State Fair Grounds. After several years they moved to Davenport and Ed managed the Mississippi Valley Fair for 10 years.
He was a member of 4-H Club, Future Farmers of America, Lions Club, Cedar Valley United Methodist Church, and the Muscatine County Beef Producers where he served as President of Board of Directors.
He is survived by daughter Peggy J. Eichelberger of West Liberty and her son Ryan of Chelsea, Oklahoma, and a special friend Carol "Cookie" Novak of Iowa City. He was preceded in death by his parents, wife Viola, former wife Helen, and two sons: David and Gary Eichelberger, sister Arlene Hitchcock and two brothers: Lysle Eichelberger and Dean Eichelberger.