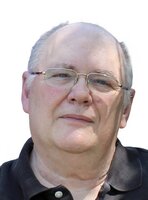 Leonard John Angersola
Leonard John Angersola, 71, passed away Thursday, February 8, 2023 at his home.
Leonard was born September 30, 1951 in Cleveland, Ohio the son of Robert & Genevieve (Prykan) Angersola. Robert and Genevieve raised their three sons in Garfield Heights, Ohio.
Len served as the events director of The Old Stone Church in downtown Cleveland for many years, upon his retirement he moved to West Branch to take care of his mother.
He loved being an uncle and great uncle. He enjoyed playing cards, games and dominoes with his family which was always a fun time with much laughter and smiles for all. He was a faithful fan of the Cleveland Browns and Indians as well as cheering on the Iowa Hawkeyes.
He is survived by his brother Ken (Molly) Angersola in Urbandale, Iowa, nephew Joseph Angersola (Ashley Webber), sons Bodhi and Caleb in Marietta, Georgia, nephew Michael Angersola (Jenna Logan), children Cale and Kamryn in Johnston, Iowa and niece Carla (James) Apodaca, children Abby and Santiago in Colleyville, Texas, who were especially close to Len. He was preceded in death by his parents and brother Robert Angersola Jr.
A private family service will be held at a later date this year.