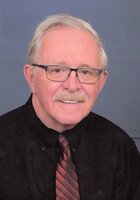 Ronald Keith Gatzke
Muscatine, Iowa
Ronald Keith Gatzke, 71, passed away Sunday, February 12, 2023 at Trinity Rock Island.
Ronald was born May 20, 1951 in Muscatine, Iowa the son of Herbert Henry and Betty Jane (DeVore) Gatzke. He was a graduate of West Liberty High School in 1969. Ron had been employed with Louis Rich Foods in West Liberty for 35 ½ years, he later worked 14 years at All Steel in Muscatine until his retirement. He enjoyed fishing, gardening and his art work.
He is survived by three children: David and Carla Gatzke, Pamela Gatzke and her significant other Nick Enderle and Kevin and Megan Gatzke all of Muscatine, 9 grandchildren, one great grandson Alex. Also surviving is one brother Donald Gatzke of Atalissa. He was preceded in death by his parents and a brother Richard.
In lieu of flowers memorials may be made to Ronald Gatzke Memorial Fund.
A memorial visitation will be held 12:00 to 2:00 P.M. Friday, February 17, 2023 at the Henderson-Barker Funeral Home in West Liberty. Family burial will held in the Overman Cemetery, Atalissa.