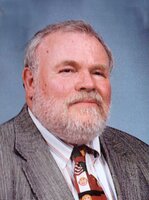 Richard Michael Paulus
Rev. Richard M. Paulus, 84, passed away Monday, December 26, 2022 at the University of Iowa Hospitals and Clinics in Iowa City.
Richard Michael Paulus was born 2/24/1938, the son of Joseph Paulus and Lucy Gertrude Paulus (Carberry). He was the youngest of four children: Robert, Barbara (Barnes) and Joann (Moss) Paulus. He passed early Monday evening on 12/26/22 at the age of 84.
Richard grew up on the family farm in the Scott Township, east of Iowa City, IA. As a youth he was an active in 4H, proudly showing livestock at the Johnson County fairs.
Richard received a BA in English and Theater from the University of Iowa, graduating with Phi Beta Kappa honors. He received a Rockefeller Scholarship to study at Union Theological Seminary in New York City where he earned his theological degree. Upon graduation he served as a pastor for United Methodist congregations in McMinnville, OR; Norwalk, CT; Waterloo, IA; Muscatine, IA; Van Horne, IA; Elberon, IA; West Branch, IA and Springdale, IA before retiring in 2000.
Richard continued in service to his local community and dedicated 16 years on the West Branch Community School Board. He enjoyed connecting with people from all walks of life, in every community in which he resided. He also supported the local school sports and fine arts programs at the West Branch High School. Richard also served with the Lions Clubs in Van Horne and West Branch, being awarded the Melvin Jones Fellow Award by the Lions Club, International in 2015.
Richard's life-long appreciation for acting and the fine arts was expressed in his support of community theater appearances and helping establish ACT 1, a local community theater in Benton County, IA. He loved reading books to local pre-school and kindergarten classes at local schools; some of his favorites included Winnie the Pooh by A.A. Milne and Elephant and Piggie by Mo Willems. Reading the stories, he would voice each character in a unique voice, much to the delight of the children.
He is survived by his wife and best friend of 59 years, Ellyn; his children, Cindy Pursifull, Joe Paulus and Jim Paulus; his son-in-law Terry Pursifull, grandchildren Brent, Eric and Lauren Pursifull; brother-in-law Bud Barnes and many nieces and nephews.
A community gathering will be held at the Henderson Barker funeral home in West Branch to share memories of Richard on February 25, 2023 1:00 to 4:00 PM. The family will hold a Celebration of Life in April 2023 at New Song Episcopal Church in Coralville, IA.
The family suggests that any memorial donations to honor Richard be made to any of the following organizations: The Alzheimer's Association (alz.org), any local food pantries, the West Branch Fire Department or a charity of your choice.